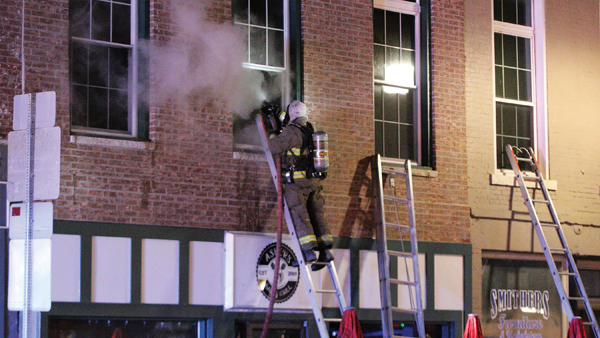 By JEFF LAMPE
For The Weekly Post

FARMINGTON – For the second night in less than a week, a Farmington bar and restaurant was declared a total loss after being engulfed by fire.

The latest casualty was Asher's Bar and Grille at 36 E. Fort St. A fire was reported at 9:19 p.m. Thanksgiving Day and crews from 18 fire departments worked to get the blaze under control later that evening, though not before the structure was badly damaged.

"There is some pretty significant structural damage and water damage throughout the whole building," said Mike Watters, Farmington Fire Chief. "It appears it started in the kitchen."

Watters said the state fire marshal was on hand last week to investigate, as were various insurance adjustors.

This is the second fire in four days in downtown Farmington, following a Nov. 22 blaze that started in Whiskey Dixie's and totalled that bar and the Parkside Deli & Diner.

Watters said there was concern that the fire at Asher's could do significant damage to neighboring buildings in that downtown block, but he said the only damage was from smoke and water to neighboring buildings.

"Our guys worked hard and did a good job and kept it to the building of origin," Watters said.

A firefighter from the Buckheart Fire Department in St. David was taken from the scene by ambulance as a precaution, but was released later that evening with a "minor ankle sprain," according to Watters.

As for Asher's, operator Russell Spencer said the fire was the latest chapter in a long line of challenges he has faced since opening.

"We opened in 2020 when COVID hit and had to go right to curbside pickup," Spencer said. "If it could happen, it happened to us in a year."

Spencer said he would like to open another bar/restaurant, but is uncertain about the future of the building, owned by Gary Maness.

"We may try to look for something else in town," Spencer said.
Watters said there was no new information regarding the other fire at Whiskey Dixie's.