Strawberry Festival first of many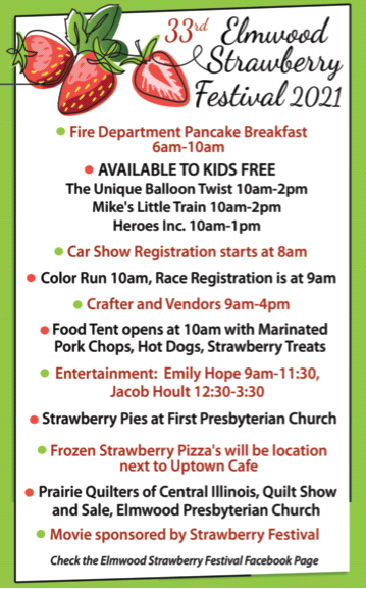 By JEFF LAMPE
For The Weekly Post

ELMWOOD – Event season returns to the area this weekend, as Elmwood welcomes back its 33rd annual Strawberry Festival on Saturday – the first of several summer events that will return from postponement one year ago.

And after that one-year hiatus caused by COVID-19, festival committee member Jill Gensler thinks there will be plenty of pent up hunger for food, crafts and fun.

"I think if the weather holds out for us, it will be really busy," Gensler said. "I think people just want out of their houses and want something to do outside."

There have already been signs of that in terms of the number of vendors signed up for the one-day event, which runs from 9 a.m. to 4 p.m. in Elmwood's Central Park.

As of Monday, Gensler had 93 vendors confirmed and another 20 possibly looking to attend. Vendors are one part of this otherwise food-oriented festival that actually opens with a pancake breakfast at 6 a.m. at the Elmwood Fire Department. After a plate full of pancakes, which are served until 10 a.m., festival-goers usually line up to eat all sorts of strawberry concoctions – ranging from pies to shortcakes, sundaes, jams and pizzas.

One change this year is that food sales will be spread throughout the downtown area instead of focused entirely in the food tent, which opens at 10 a.m. and will also feature pork chops and hot dogs.

Strawberry pies will be sold at the nearby Elmwood Presbyterian Church at 201 E. Evergreen St., while pizzas will be sold in the grassy lot next to the Uptown Cafe.

"A lot of the groups are doing that because of the social distancing and that sort of stuff," Gensler said.

Don't wait too long to purchase your favorite strawberry treat, though, as many items will sell out before the day is over.

There is also a car show during the event, with check-in from 8 a.m. to noon and participant judging at noon. Cost is $25 to register on the day of the show. For more information, call Jennifer at (309) 742-3711.

Live music will be performed in the Central Park gazebo by Emily Hope from 9-11:30 a.m. and by Jacob Hoult from 12:30-3:30 p.m.

The Prairie Quilters of Central Illinois will hold a quilt show and sale at Elmwood Presbyterian Church.

There are also free events for youngsters, including balloons made by Unique Balloon Twist and Mike's Little Train from 10 a.m. to 2 p.m.

Those interested in participating in a color run at 10 a.m. can register Saturday starting at 9 a.m. In a color run, participants are given a white shirt and, according to organizer Rusty Koll, "at planned intervals along the race route, runners stop and colored powder is safely thrown" onto their shirts. This colors the shirt in a manner similar to tie-dye.

Finally, the Strawberry Festival is sponsoring the showing of the film "Twister" at the Palace Theatre at 11 a.m. The film was scheduled to be shown last year to commemorate the 10th anniversary of a tornado that visited Elmwood – and took with it a food tent – shortly after completion of the festival in 2010.