B-E softball 13-1 after outscoring last four foes 46-2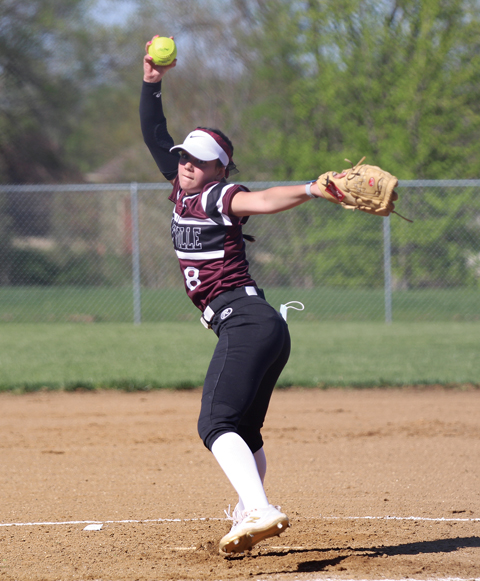 By JEFF LAMPE
For The Weekly Post

The potent Brimfield-Elmwood softball team shows no signs of slowing, winning its last four games by a combined tally of 46-2.

B-E (13-1) was a 16-1 blowout winner at Knoxville on Monday, as the team had 16 hits including five triples, four doubles and a home run by Maddie Hessing.

CJ Troxell drove in four runs against Knoxville and Kierra Johnson and Molly Malone each had three RBI. Haley Wallace had two doubles and a triple in the win and Kylee Vaughn had three hits.

Hessing allowed one hit and fanned 10 in the complete game.

Last Friday was more of the same in a 13-1 win at West Prairie, where the Lady Indians made the most of nine hits and six walks. Hessing homered in that game and went 2-for-2 with two RBI, while Troxell was 2-for-2 with a double.

Kate Yemm allowed one hit in 5 innings to get the pitching win.

B-E's closest game since a May 5 loss to Illini Bluffs came last Thursday in a 4-0 win at Havana. Hessing allowed one hit and fanned eight and got support in the form of a homerun from Haley Wallace, two hits from Marisa Unes and an RBI-double from Grace Doering.

On May 19, Hessing pitched a shutout in a 13-0 win over Metamora during which she gave up three hits and fanned eight.

B-E had six hits but also drew 15 walks. Ella Florey drove in four runs, Wallace scored three times and doubled and Johnson and Olivia Kappes each had two RBI for the Lady Indians.

ROWVA-Williamsfield
The Cougars (11-6) have won two straight since a week-long break.

On Monday, ROWVA-Williamsfield won at Princeville, 6-2, as Jenna Woodside, Ava Landon and Calyn Garza had two hits apiece. Garza tripled and drove in one run and Jenna Woodside and Kataleena Hunt each scored twice.

Katelyn Aldred pitched to the win, allowing eight hits but walking non in seven innings, during which she struck out eight Lady Princes.

Last Thursday, R-W routed Galva, 9-1, with Aldred again the winner in an 11-strikeout, 4-hit, 1-walk complete game victory.

Aldred also helped her cause with two of R-W's six hits. Avery Rigg added two hits and scored twice and RBIs went to Landon, Aldred, Ashlyn Murdock and Olivia Farquer.

Farmington
The Lady Farmers (6-7) have battled injuries and quarantine issues, but enjoyed ending Monday's game with a walk-off homerun by senior Laryn Kephart for a 9-8 win over North Fulton.

Farmington trailed 5-1 in the third but kept rallying and tied the score, 6-6, in the fifth on a single by Alyvia Marcotte and a two-RBI double from Emily Vallianatos. Emylee Mahr drove home Emma Evans in the sixth to rally and then, after a run by North Fulton in the seventh, Kephart's blast brought home Alexis Traver.

That made a winner of Holly Shriber (6-6), who struck out five and allowed 12 hits and five walks.

Last Saturday, Farmington dropped a pair to Kewanee, 10-0 and 4-2. Marcotte was 3-for-4 in the second game and is now hitting .526 on the year with nine stolen bases and 15 runs scored. Vallianatos leads with 17 RBI.

Princeville
The Lady Princes (0-9) have dropped three straight after being sidelined for a two-week COVID quarantine. Princeville starts six freshmen and Coach Brian Holt said it has been a tough season to get in enough practice after the Lady Princes successful volleyball season and COVID-19 restrictions.

Princeville fell to ROWVA-Williamsfield on Monday, 6-2. Emmaline Perkins and Kinley McGinn had two hits apiece for Princeville and each doubled, while junior Bridget Gilroy was the hard-luck loser on the mound, fanning 12 in 7 innings. She was hurt by four unearned runs.

"Gilroy has pitched better than her record shows," Holt said. In 49.1 innings, she has 58 strikeouts, 19 walks and a 3.40 ERA.

Perkins continues to be a hitting bright spot, carrying a .480 average with eight RBI.

The Lady Princes also dropped a pair on Saturday to Wethersfield-Annawan, 6-0 and 11-1.

Greta Dwyer had Princeville's lone hit in the opener, while Perkins, Kiara Cilha and Jacee Craig had the hits in the second game. Perkins' homerun accounted for the lone Princeville run.