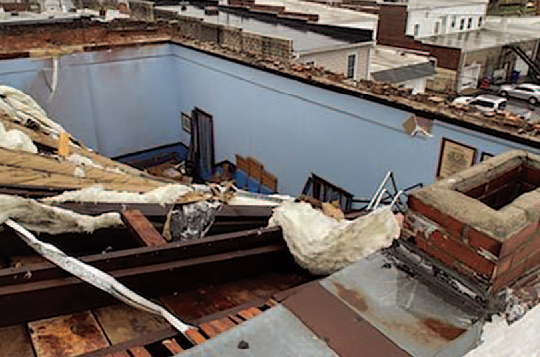 By JEFF LAMPE
Weekly Post Staff Writer

Winds gusting over 60 mph on Tuesday brought down tree limbs and power lines across the area and damaged several roofs, smaller buildings and trailers.

In Elmwood, the winds ripped off the back half of the roof of the Horeb Lodge building at 114 N. Magnolia St. The building houses the Post Office, Uptown Cafe, the Mason's meeting room and apartments.

While a few bricks scattered below, most of the roof remained on top of the building, but allowed rain water to pour inside. There were no injuries.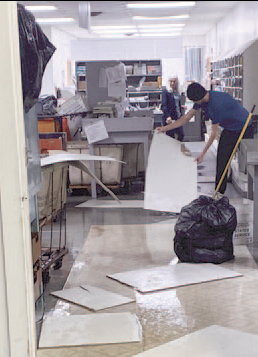 "All of the sudden, water started gushing in," said Tina Metz, who was inside the Uptown Cafe when the storm hit.

The post office was to be closed Wednesday for Veteran's Day and postal workers said they were uncertain at press time as to what would happen moving forward. Uptown Cafe is also closed.

A roof was also blown off a home in Kickapoo as the storm moved east and in Trivoli, remnants of a steel outbuilding were wrapped around a tree. Several farm outbuildings were also damaged by the storm, which was announced by the sound of sirens for a tornado warning just prior to 3 p.m.