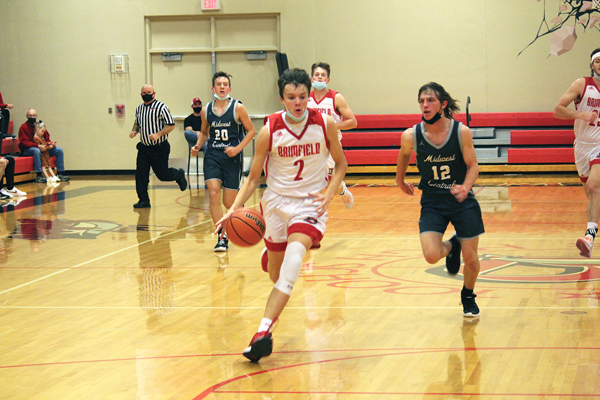 Area boys hoops teams win some, lose some in Thanksgiving play
By JEFF LAMPE
For The Weekly Post

While no local boys basketball team brought home a Turkey Tournament title last week, the winning overshadowed the losing for all area teams.

Here's a rundown.

Brimfield

BRIMFIELD – The Indians finished 2-1 at their Turkey Tournament, topping Tremont (60-53) on Nov. 23 and Midwest Central (69-50) on Nov. 26 before falling to a loaded Knoxville team last Saturday, 51-39.

"Knoxville got off to a hot start and we didn't play well to start and just got in a hole that we couldn't get out of," Brimfield Coach Kevin Kreiter said. "The kids are playing hard. It was a different style and we didn't adapt very well."

Brimfield trailed 19-7 after one quarter and could only get within four points the rest of the game.

Junior Oliver Heinz led with 18 points against Knoxville.

Heinz also led Brimfield in scoring with 20 points against Midwest Central while senior Levi Moon added 19.

"We led that one 14-0 at the start and kind of maintained that all the way through and had a good night shooting," Kreiter said.

Against Tremont, Moon scored 16 and senior post player Caleb Tyre added 15 for Brimfield, which was up by 17 points after three quarters.

"We did a great job on defense," Kreiter said. "But we didn't finish the way we would have liked to have."

A game scheduled with Abingdon-Avon for this week was pushed back due to A-Town's injuries, Kreiter said.

Brimfield hosts Stark County on Friday and then travels to play Annawan Saturday.

ROWVA-Williamsfield

WILLIAMSFIELD – Over the years, the strategy of playing plenty of games at home to start the season has helped Coach Bob Anderson build some very good basketball teams.

And that formula appeared to be working well once again last week until starter Carson Malek had to miss three games.

That hurt the Cougars (3-2) in a 55-25 tournament-ending loss to United on Saturday.

"On the one hand I'm kind of satisfied, on the other hand I'm very disappointed in our last game," Anderson said. "United just took us apart.

Their defense took us out of everything. Without Malek we really didn't have a good outside threat and they were able to do a good job denying the ball to Graham Wight."

Wight and Malek had tallied 18 points apiece in R-W's only other tourney loss, a 68-54 setback on Nov. 23 against Port Byron Riverdale, which won the event with a 5-0 record.

Last Friday, R-W bounced back with a 55-51 victory over West Central that went down to the wire.

"They've got some talent," Anderson said of West Central. "They've got a good junior group and then can shoot the 3 a little bit."

Wight led R-W with 21 points while Riley Danner chipped in 12 and Adam Kohl added 11.

"The Danner kid has been a real pleasant surprise for us," Anderson said.

The Cougars followed that up Saturday with a 64-47 win over Henry in which Wight had 22 points, Kohl tallied 10 and Dylan Tucker scored 21, making five of his six 3-point shot attempts.

"He gave us a real boost in that game," Anderson said.

R-W was to face Delavan on Tuesday at home and then wraps up the homestand in Williamsfield by facing potent Peoria Christian on Saturday.

Elmwood

KEWANEE – The Trojans have used a slightly different season-opening strategy for the past few years: attend a usually competitive Kewanee Wethersfield Tournament, take some lumps and build from those lessons to become a better team.

The good news for Coach Josh Fugitt is that Elmwood has plenty to learn from after a 3-2 finish at the Wally Keller Invitational. Elmwood beat Putnam County (54-51) on Nov. 22, Annawan (62-51) on Nov. 24 and host Wethersfield Nov. 26, but lost to Bureau Valley (52-50) on Nov. 23 and then dropped its last tournament game to Stark County (57-52) on Saturday.

"When we shoot it well and don't turn it over, we're capable of being a good team in stretches," Fugitt said. "But our defense has a lot of work. We're still too tied to what happens on the offensive end and when that doesn't go well, it transitions to defense."

Fugitt said those problems cropped up against Stark County.

"They play hard, they're long and they're athletic," he said. "And they definitely exposed some of our weaknesses on defense in the second half. Some things didn't bounce our way offensively and our defense isn't good enough to make up for it right now."

Stark County outscored Elmwood 20-15 in the final quarter. Andrew Marincic led the Trojans with 15 points, Brayden Lehman had 12 and Victor Lenzi tallied 11.

Lenzi and Marincic had 21 apiece against Annawan and the senior pair also led against Wethersfield, with Marincic pouring in 24 and Lenzi tallying 12.

Marincic and junior Zach Howerton were voted all-tournament.

"Zach really impressed the first two games for sure with his ability to score the basketball," Fugitt said. "Then in games 3-4, Victor really put together two good games for us. Whether he scores or not, his rebounding is thre and he had two to three blocks in the last two games."

Elmwood faced West Prairie Tuesday at home and is home Saturday against Delavan.

Farmington

ASTORIA – The flu bug and injuries did no favors for Farmington, which was missing key parts as it dropped the title game of the Fulton County Tournament to Lewistown last Saturday, 47-37.

The Farmers (4-1) were without starters Corbin Rutledge (flu) and Ethan Evans (injury), while fellow starter Riley Embry (flu) managed 9 points in limited time. Keauntrey Barnes led Farmington with 11 points.

"It's a great opportunity for younger players to get varsity playing time," Coach Marty Lozier said.

Prior to that, Farmington had routed South Fulton on Nov. 24, 66-22. Logan Morse led with 13 points and Rutledge added 12. The Farmers also won easily on Nov. 23 over North Fulton, 57-18. Rutledge had 16 points and Embry had 10.

Farmington won big at Tremont on Tuesday, 74-47, as Evans tallied 23 in his first game back from a football shoulder injury. Embry added 15 and Morse had 12.

Princeville

The Princes are off until at least Dec. 7 while the school is on remote learning due to increased COVID cases.