Trojans take second in relay for fifth time in school history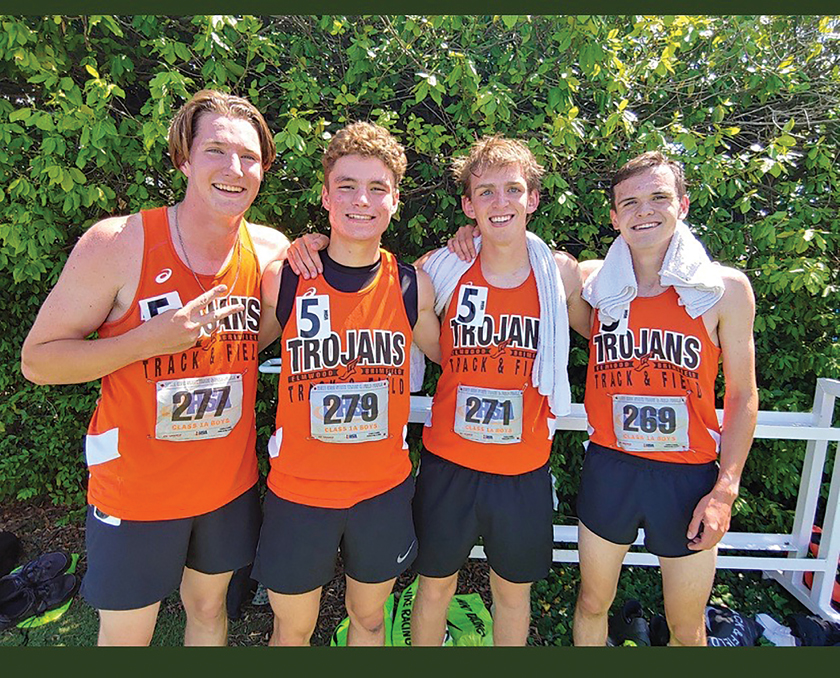 By JEFF LAMPE
For The Weekly Post

CHARLESTON – One of these years, an Elmwood-Brimfield 4×800 relay is going to win a state title.

But until that finally happens, the Trojans will be proud to add to an already-impressive resume of relay finishes. Another chapter was written last Thursday during a steamy state meet, as E-B ran to second place in the two-mile relay for the fifth time in school history.

The quartet of seniors Blake Rosenbohm, Eli Stevenson and Luke Hoffmann and junior Thomas Harmon posted a season-best time of 8:06.63 to finish behind the 8:00.77 of Niles Northridge Prep.

And unlike some years, when E-B lost a lead in the final leg, this time around it was up to anchor Harmon to close ground and pass runners to boost the Trojans to second.

"We did a good job in our first two legs and then we handed off to Luke Hoffmann and he did a good job getting us close," E-B Coach Gregg Meyers said.

From there, it was all up to Harmon, whose split time of 1:57.1 would have won the open 800 race later in the day.

Running third when he took the baton behind Niles and El Paso-Gridley, Harmon passed Asa Smith of EP-G and then held off a late charge by third-place Elgin Harvest Christian Academy.

"I think I just ran that perfectly," Harmon said. "I went out quick and took the second lap strong and was able to kick it in the last 200."

That sealed a fourth consective 4×800 medal at state for E-B, which now has 14 overall. And yes, five of them are second-place finishes. Twice, Meyers recalled, E-B had the lead on the last leg.

"The problem is, we had one kid that ran a 1:58 and another ran a 1:58.5 or 1:59. So they ran really good races," Meyers said. "Unfortunately, they were going against kids that could run a 1:52 and we didn't have a big enough lead."

Two Niles Northridge Prep runners also placed ahead of Harmon in the open 800, where he finished seventh in a time of 1:58.97 in his first individual event at the state meet. Eli Mojonnier of Bismarck-Henning-Rossville-Alvin won in 1:57.33. Denver Hoerr of Princeville was 29th in 2:07.78.

Harmon said he did not run as well in the open 800 as in his anchor leg.
"I just went out too slow and had to make up a lot of ground," Harmon said. "It's just something I'll take to next year."

For Harmon, it was a satisfying finish after a difficult sectional during which he got overheated in winning the 800 and placed fourth in the 1,600 after having coming in seeded second.

Missing the mile may have been fortunate given the steamy temperatures athletes endured last week at state.

"I was almost glad I didn't have to worry about [the 1,600] this year," Harmon said. "But next year I want to qualify in the 800 and the 1,600."

Farmington had the next top finisher for an area team, with a 4×400 relay that finished 12th in 3:34.44 and consisted of Adian Basalay, Dane Hitchcock, Logan Morse and Sam Fletcher.

Placing 17th in the 4×400 in 3:37.9 was E-B's quartet of freshman Isaiah Hill, Stevenson, Rosenbohm and Harmon.

Other finishers for E-B included Hoffmann, 13th in the mile in 4:36.44; Hoffmann, 18th in the 3,200 (10:15.50); Tyler Sheridan, 25th in the 3,200 (10:38.40); and the E-B 4×200, which placed 23rd in 1:35.44.

While that 4×200 time was not the fastest for E-B's all-underclass relay of Aiden Frail, Brayden Lehman, Jakoby McKown and Johnny York, it was an encouraging sign for Meyers.

"Even though they didn't run their best time, they came close and now they've had that experience," Meyers said. "So I'm really proud of those guys, too."

For Princeville, Grant Hunt placed 15th in the 400 (52.16) for his best finish and placed 17th in the 100 after running a personal best of 11:35. He was 22nd in the 200 in 23.69.

Hunt also anchored the Princes' 24th-place 4×100 relay, which also included Marcel Primera, Denver Hoerr and Tayshaun Kieser. All return next year.

Hoerr was also 23rd (4:47.27) in the 1,600, which was won by Mathew Olech of Elgin Harvest Academy in 4:21.59.

Olech was also second in the 3,200 (9:19.92) and helped lead his team to a state title with 51 points to 38 for runnerup Salt Fork.

Tiny Cowden-Herrick was third with 37 points thanks to the scoring of two athletes: jumper and hurdler Jadon Robertson (first in high jump and 110 hurdles and third in long jump) and thrower Daniel Lucas (first in shot put).

E-B was 26th with 11 points.