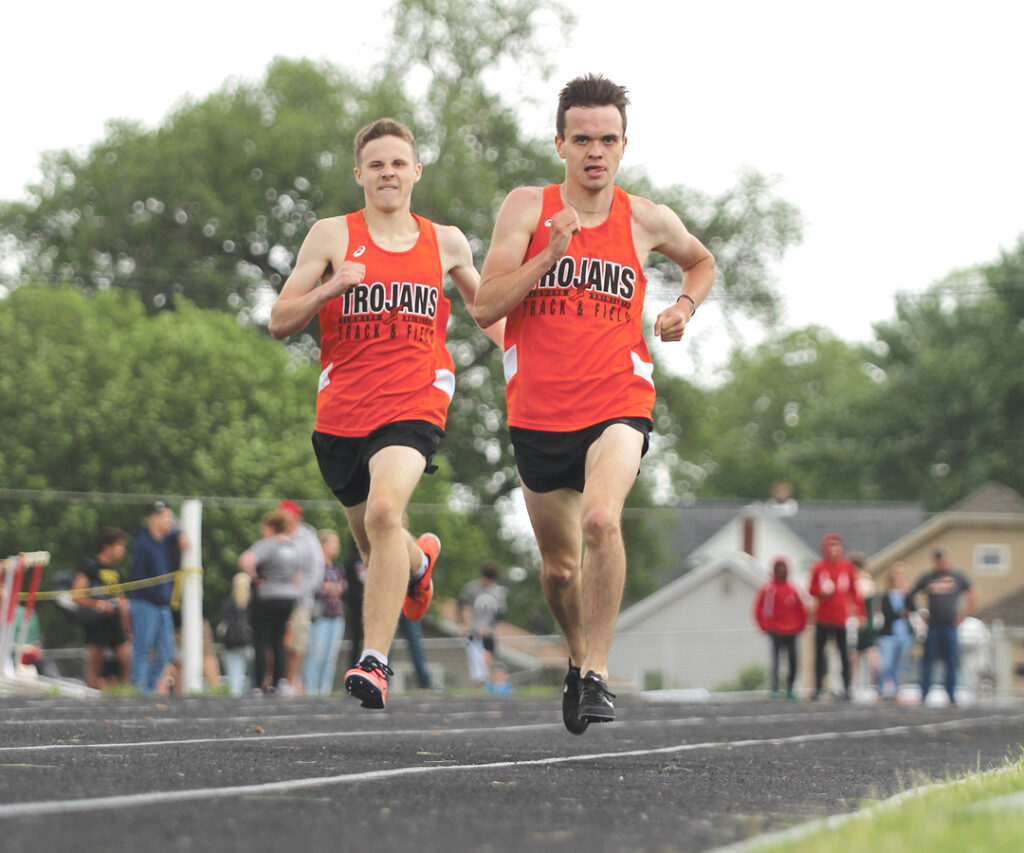 By JEFF LAMPE
For The Weekly Post

KEWANEE – Hampered by hamstrings in the sprints and sprint relays, the Elmwood-Brimfield track and field team reached back to its traditional strength for a second straight Class 1A sectional title last Friday.

E-B racked up 47 of its 82 points in distance events to place first in the Kewanee Wethersfield Sectional ahead of runnerup Stark County (66 points) and the likes of fifth-place Princeville (50).

Much of that was fueled by senior Thomas Harmon and sophomore Isaiah Hill. Harmon ran 6,000 meters on the night, winning the 3,200 in 10:28.92 and the 800 (2:00.83), finishing second in the 1,600 (4:41.27) and running the anchor leg in E-B's second-place 4×400 relay. The only way he could have run more would have been to compete in the 4×800 relay, but Coach Gregg Meyers figured the Trojans had enough horses to win the distance relay without Harmon, while the 4×400 needed help due to injuries.

That proved true, as the 4×800 quartet of junior Brendan Williams, sophomore Mika Nelson, senior Nick Feller and Hill won in 8:46.06. That 4×800 time earns them the No. 17 seed heading into the Class 1A state prelims today at Eastern Illinois University. Finals are Saturday.

Hill was also second in the 800 (2:00.99) and first in the 1,600 (4:41.26) and ran on the second-place 4×400 (3:33.83) along with freshman Daniel Yeagle, Williams and Harmon. The 4×400 is seeded No. 19.

Aside from winning plenty, it was an unusual meet for Harmon, who held back mightily in his 3,200 win before surging in the final 200 meters. And he and Hill were directed not to race hard in the 800 and 1,600 to conserve energy, though they did battle some in the 800.

"I still had that race mentality, but obviously I was going to be on the track a lot more than usual, so in my mind it was just like another workout day," Harmon said. "The goal was to get points today. And I think Isaiah and I have done that."

As a result, Harmon's seeds are not as lofty as they would have been had he ran hard in just one or two events. And that's OK, since unlike last year, there will once again be prelims at state.

Harmon ranks 10th in the 800 and 28th in the 1,600. But his season-best 800 time of 1:56.2 would push him up to No. 1.

"Bringing home a state championship would be nice, but as long as I can be up front and compete, that's my goal," said Harmon, who placed 7th in the 800 at state last year. "And I think the 800 is my best chance to be up front and compete … the 800 is definitely my forte now and I've really grown to love the event."

E-B also got points from senior Johnny York, who earned a trip to state by placing second in long jump with a leap of 19 feet, 6.75 inches despite an ailing hamstring.

"Hopefully with six days rest and a little work on it he can maybe jump a little farther," Meyers said.

York's p.r. of 21-5.75 came May 9 and would place him 8th out of the jumpers who qualified for state. His sectional effort is good for 29th.

Princeville was led by senior Grant Hunt, who won the 400 in a personal record 51.32, ran second in the 100 (11.34) to Peru St. Bede speedster Tyreke Fortney (10.89) and ran on state-qualifying 4×100 and 4×400 relays.

Hunt's top seed heading to state is 8th in the 400.

"In the 400, Grant was actually ranked second coming into the sectional and he and pulled off a pretty convincing win," Princes Coach Jon Carruthers said. "So he had a good meet. The 4×100 was a little scary [due to a less-than-perfect baton exchange], but that's the 4×1, it's all handoffs.

"The good thing is we know we can do better. That wasn't our best race."

Princeville's quartet of Tayshaun Kieser, Denver Hoerr, Marcel Primera and Hunt ran second in the 4×100 in 44.64 and rank 29th head into state.

The same four won the 4×400 in 3:32.09 to rank 11th after sectionals.

Farmington athletes will compete in three events at state. The 4×200 relay of sophomores Hunter Darsham and Dane Hitchcock, freshman Jake Martin and junior Logan Morse placed second at sectional and posted a p.r. of 1:34.49 to edge E-B's ailing quartet.

The Farmers rank 27th in the seedings posted after sectionals.

Logan Morse was also second in high jump (6 feet, 0.75 inches) and ranks 25th while Brayden Morse was second in pole vault (10-8) and is seeded No. 26.