Williamsfield senior Beard
assisted with new business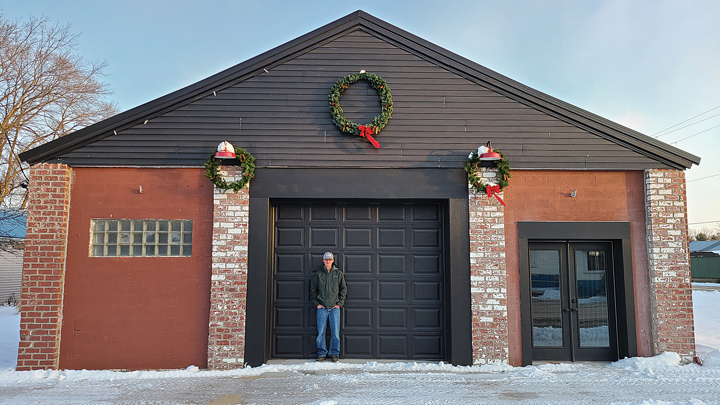 By SIDNEY STIERS
For The Weekly Post

WILLIAMSFIELD – A new program designed to encourage young entrepreneurs has helped Hayden Beard, 17, open Beard's Feed Store at 105 W. Gale St.

A senior at Williamsfield High School, Beard is vice president of the Williamsfield FFA Chapter and the president of the Williamsfield Town & Country 4-H Club. Beard also works for his family's farm, raising black angus cattle and farming row crops. He loves the outdoors, hunting and fishing. In the summer, you can find him in the show barn, showing cattle and sheep.

Beard's Feed Store sells Hopedale Agri Center (HAC) products, fencing supplies, feed and may eventually sell apparel, such as gloves and boots.

Keeping up with schoolwork as an entrepreneur can be tough, so Williamsfield High School has accommodated Beard's needs by making adjustments to his schedule. Beard gets credit for work experience at his store for four class periods and is at school for three class periods. He then goes back to the store after school.

Beard is the first participant in the new Williamsfield Young Entrepreneur (WYE) Program, which is designed to support Williamsfield students who want to start a business in town. After an applicant is selected following a rigorous review, the program provides financial support to help increase the odds of business success in a small town. The goal of WYE, a nonprofit, is to improve economic opportunities, stability and development in Williamsfield.

Beard applied to WYE in May of 2020 and was selected. The program provided Beard an opportunity to help the local agricultural community and surrounding communities by starting a feed business at the former Legion Hall.

"If you are a high school student that's into business, look into the Williamsfield Young Entrepreneur Program," Beard said. "It's done wonders for me. I hope the program continues and helps more people like me."

Williamsfield Mayor Matthew Tonkin and his wife, Lora Kutkat, are founders of the entrepreneurship program. They also own the former Legion Hall and have supported Beard through the project. WYE also provided funding from various sources to get the project started.

"The WYE will be preparing a request for projects early in the spring for the next batch of students to apply," Tonkin said, " and we look forward very much to reading their proposals."

Beard's school teachers have also been very helpful and supportive of his endeavors. One is business teacher Kathy Wight, who guided Beard in an Entrepreneurial Experience course.

"Hayden has worked hard in Entrepreneurial Experience," Wight said.

"He researched about retail and a point-of-sales system, and he worked on a store layout, a customer base and contact information. He worked really hard on the behind the scenes stuff that a lot of people don't even realize happens. Hayden is a pioneer because we haven't had anyone do this yet … but I have full confidence and comfort in Hayden's ability to make this happen.

"I think he's going to set a great example for Williamsfield's students to follow."

Ag teacher and FFA Advisor Kent Rigg said Beard's agriculture background will be helpful.

"All of his time and dedication to his livestock he's had over the years will assist him in his journey as an entrepreneur," Rigg said. "Being raised on a farm really showcased his talents and his ability to run a business himself. He knows what hours are involved in hard work and what it's going to take to make his business successful."

When Beard heads to Western Illinois University this fall, he plans to keep the business open, provided it is successful. He hopes to hire someone to operate the store during the week, but intends to come back on the weekends whenever possible.

Store hours are 8:15 a.m. to 11:30 a.m. Monday through Friday, 3:30 p.m. to 5 p.m. Monday through Wednesday, and Saturdays from 9 a.m. to 1 p.m.

The feed store can be contacted at (309) 335-2519 or on its Facebook page.