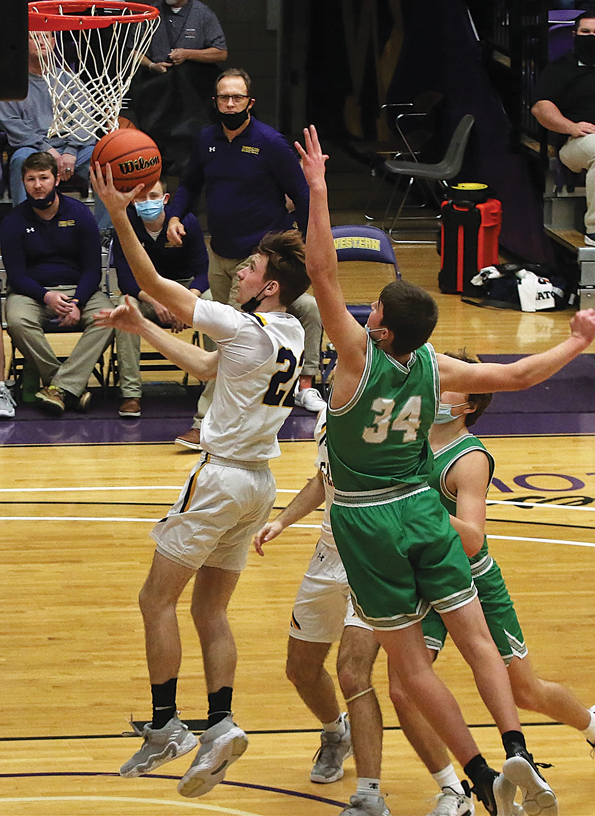 By JEFF LAMPE
For The Weekly Post

MACOMB – Down 12 at halftime of the Macomb-Western Holiday Tournament title game, Marty Lozier figured his Farmington boys basketball team could still mount a comeback.
Then Eureka hit 81.3 percent of its shots in the final two quarters – despite what Lozier called "pretty good defense." Some games aren't meant to be.
But aside from that 55-30 loss to Eureka – the Farmers' second straight appearance in the tourney championship game – Farmington (11-3) enjoyed an excellent showing at WIU.
On the way to second place, Farmington got a buzzer beater to survive Illini West (49-47) in its opener, earned revenge against No. 1 seed Rockridge (44-31), outlasted No. 4 seed Liberty (45-43) and added to a doubly-impressive start, given that the Farmers have played all but one game on the road.
"They have found out how good they can be," Lozier said. "You walk out of that tournament in the winner's bracket with just one loss and you've had a good tournament."
The Farmers opened on Dec. 27 by topping Illini West when Logan Morse made a layup as time expired. Top scorers were Riley Embry with 11 and Keauntrey Barnes with 10 off the bench, fueling a 16-5 bench-scoring advantage for Farmington.
Next came a rematch of the 2019 title game vs. top-seed Rockridge. This time, the Farmers earned revenge, thanks largely to a defense that held Rockridge to 24.3 percent shooting. Embry limited Jase Whiteman to seven points and Barnes and Corbin Rutledge (16 points) combined to make things tough for Rockridge's other scorer, Nate Henry (15 points).
"We forced Henry to go left all night," Lozier said, explaining a gameplan that worked well.
Morse tallied 13 for Farmington and Barnes had 7 points and a game-high 7 rebounds.
The semifinal on Dec. 29 was a back-and-forth affair that ended on a missed jumper by Liberty at the buzzer. Morse finished with 16 points and hit 3 of 5 3-pointers for Farmington while Embry scored 10.
Farmington shot just 31.7 percent from the floor against Eureka and was 3-for-17 on treys. Rutledge led with nine points and Morse had eight.
Morse and Rutledge earned all-tournament honors, but Lozier also credited Ethan Evans, Embry and Barnes for having a very strong tournament.
"Keauntrey found out he can play varsity this tournament," Lozier said. "He just did so many things that don't show up in the scorebook."
The Farmers were at Havana on Tuesday and are home against IVC on Saturday and Bushnell-Prairie City on Jan. 11.

Elmwood
PRINCEVILLE – Despite injuries and playing without head coach Josh Fugitt, who was home with COVID, the Trojans (8-6) placed third at the 93rd annual Princeville Holiday Tournament.
Assistant coach Brandon Butler coached the Trojans to a 2-1 record. Elmwood's lone loss was a 63-46 setback in the Dec. 28 semifinals to No. 2 seed Ridgewood (6-3), which went on to win the title game against previously unbeaten Midland (13-1), 71-63.
Fugitt, who livestreamed the games from home, said his team's defensive lapses hurt in the semifinal.
"When we play teams with better players, they make us pay [for our defensive lapses]," Fugitt said. "They didn't miss much inside."
Andrew Marincic led with 16 points and Brayden Lehman added 10 points while Layne Durst scored 9. Marincic, Durst and freshman Bo Windish were the rebounding leaders with four apiece.
The Trojans closed the tournament with a 50-43 win over Princeville, which was down to seven players and was missing two starters. Elmwood had issues of its own in the game, as Lehman reaggravated a knee injury and Brendan Williams was home sick.
As a result, Marincic spent more time that usual playing inside and grabbed a team-high 6 rebounds to go with 16 points. Durst scored 15 and Windish tallied 12.
"Brandon did an excellent job keeping the kids focused," Fugitt said. "Once Brayden went out, he slid Marincic to the 4 position and Andrew did a really nice job of that."
The Trojans negotiated Peoria Height's matchup 2-3 zone in the opener for a 61-42 win. Heights won the consolation title.
Marincic led with 18 points, Windish had 15 (and went 3-for-6 on treys) and Lehman scored 11.
"We moved the ball well against their 2-3 zone," Fugitt said.
Elmwood's game with Brimfield Tuesday was postponed. The Trojans play ROWVA-Williamsfield at home on Friday.
Senior Victor Lenzi is recovering from an ankle injury and could return this week or next, Fugitt said.

Princeville
PRINCEVILLE – Princeville (1-6) got a much-needed win in the first round of its 93rd annual holiday tournament, downing Henry-Senachwine, 56-32, on Dec. 27.
"We played well. We got to the basket and played really good defense and found a way to close out that game," Coach Tait Sennett said. "Henry made a little run to get within 12 and then we were able to put a run of our together and seal the deal."
Things didn't go as well for the Princes in their final two games. In a Dec. 28 semifinal loss to Midland (55-23), the Princes could not contend with a hot-shooting foe. Sennett said top-seeded Midland hit on 47 percent of its 3s.
"We had hands in their faces and they still shot the ball well," Sennett said. "We just couldn't stop that part of it. And defensively, they got in our chest and we couldn't do a whole lot."
The Princes played better on both ends of the court in the third-place game vs. Elmwood before falling, 50-43.
Princeville was without nine players, two starters and head coach Sennett due to COVID rules, leaving just seven players on the bench and assistant coach Aaron Cowser to run the show.
"Parker Melick and Tucker Osborne did really well for us handling the ball and their pressure," Sennett said. "I'm proud of our kids for how they fought and played."
Princeville was to play Stark County on Tuesday.
ROWVA-Williamsfield
Before taking a long holiday break, the Cougars (6-6) ran their win streak to three with a 65-46 road victory over North Fulton back on Dec. 22.
After a slow start, R-W regained control and wound up putting three players in double figures: Graham Wight with 23, Carson Malek with 21 and Dylan Tucker with 14.
"I think maybe the kids though they were getting good after winning a couple," R-W Coach Bob Anderson said. "But after the start we played pretty good. That was the first game we had everybody back in awhile."
Malek and Wight missed some practice over break and were not eligible to start Tuesday at Ridgewood. R-W travels to Elmwood Friday and plays the Trojans Monday, Jan. 10 in the ICAC Tournament.
Brimfield
The Indians (5-1) took a break over the holidays and then were forced to postponeTuesday's game at Elmwood due to COVID issues.