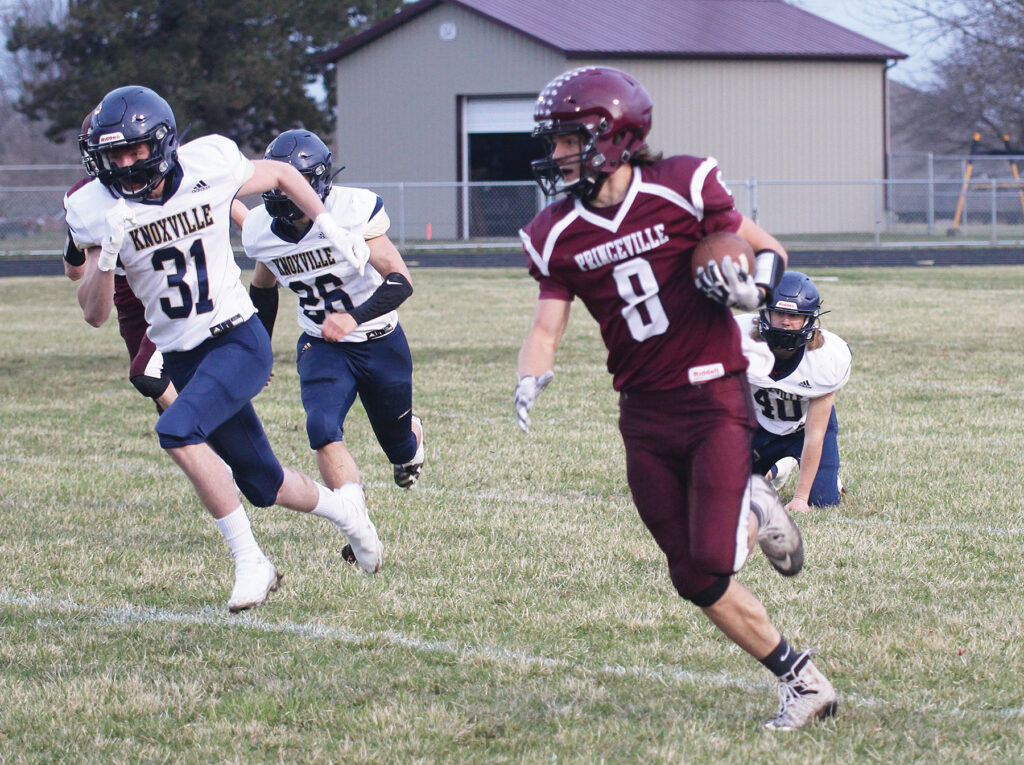 By JEFF LAMPE
For The Weekly Post

PRINCEVILLE – Sometimes, a very strong senior class can leave a void that is hard to fill in a football program.

So it was with remorse and intrigue that Princeville bid adieu to last year's strong senior group, which led the Princes to a 5-1 record.

 But so far, Coach Jon Carruthers has mostly praise for his nine returning seniors and for a group of 10 juniors who also figure to play a key role.

"We didn't play a full season last year, but that was one of the stronger senior classes we've had. And you always worry about how the next class is going to do. Who is going to step up?" Carruthers said. "Pretty much the whole senior class has stepped up and come together. The freshman, they have to see someone leading by example and, fortunately, the seniors and the juniors – for the most part – have been doing a good job of leading by example."

Certainly that's true of senior Denver Hoerr, one of five players who saw starting time this spring on offense and one of four who played a good deal on defense. A gifted athlete and gritty competitor, the 6-foot-1, 160-pound Hoerr will likely rotate between running back, wideout and possibly even quarterback.

"He's a natural athlete," Carruthers said. "Somewhere, sometime, somehow" Princeville plans to get him the ball.

Last spring, Hoerr caught 28 passes for 579 yards and six scores, averaging 20.7 yards per reception. That's production the Princes will have to find a way to tap into again, whether in the run game or pass game.

And Carruthers said likely starting quarterback Jordan Johnson (junior, 6-0, 160) can be expected to throw the ball, since the Princes also have returning starter Hunter Stahl (senior, 5-11, 155) at wide receiver and some promising backups including senior Torrence Kieser (5-9, 160).

Even so, a betting man would expect the Princeville QB to be handing it off plenty to the Princes' speedy backfield.

The running back stable beyond Hoerr includes a trio of sprinters: senior Grant Hunt (5-10, 145) and sophomores Tayshaun Kieser (5-10, 165) and Marcel Primera (5-5, 130).

"We've got some speed. We definitely have kids that are capable of taking it to the house if you give them a crease," Carruthers said. "They are quick."

The offensive line could take some time to gel, as the only starters returning to the same position are 6-2, 245-pound sophomore Kellen Francis and 6-0, 275-pound senior right tackle Gage DeVries.

"He's a good one," Carruthers said of DeVries.

The other likely starters up front are sophomore left tackle Zach Stalter (6-1, 180), senior left guard Cole Brower (6-0, 180) and senior right guard Austin Herold (6-1, 215). Herold opted for remote learning last year, so did not play during the spring season.

There's even more to sort out on defense, where the entire linebacking corps will be rebuilt around three returning starters who played other positions in the spring. Those three are Brower, a defensive end last year, Hoerr, starting free safety in the spring who racked up 24 tackles, and Grant Hunt, who was a cornerback and had 20 tackles. Other linebackers figure to be Torrence Kieser and Stalter.

"The defense is definitely a question mark. We're just trying to fit the best pieces in," Carruthers said. "The problem is, a lot of kids are being shifted to linebacker, so they haven't had those reps for three years. And last year, with the COVID season, they didn't get the time to do individual drills."

That meant more time was spent on individual skill drills this summer and team defensive drills did not really get started until later than usual this preseason.

At this point, the line looks to be Francis at nose guard and Herold and DeVries at end. DeVries saw time early in the spring at end before hurting an ankle and focusing strictly on the offensive line to limit reps.

The three defensive backs will come from a group that includes Johnson, Stahl, junior Liam McGrath (5-11, 150), Primera and junior Griffin Crear (6-2, 150).

Also back for Princeville is senior all-conference kicker RJ Ahten, who hit on 17 extra points and three fields goals in the spring.