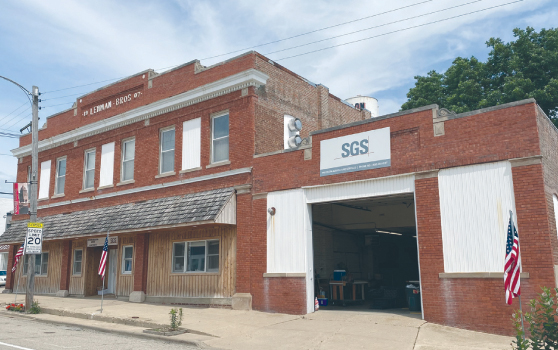 By Jeff Lampe

TOULON – SGS is closing its Toulon soil-testing office and laboratory, with July 10 the final day of operation at 117 E. Main St.

SGS staff confirmed information in a letter taped to the front door stating that the company is "centralizing" all soil testing at its newer Brookings, S.D. laboratory. The Toulon office stopped taking samples June 26 to prepare for the move.

SGS has a staff of seven full-time workers affiliated with its Toulon office, which has been a center for soil-testing since Mowers Soil Testing Plus Inc. consolidated its operations here in March of 1990.

Mowers was bought out in 2008 by SGS, a multi-national company that specializes in testing of all sorts – ranging from agricultural to chemical to energy and even to coronavirus testing.

Brandon LeSage, 30, of Kewanee has worked as a client representative and crop advisor for SGS in Toulon for the past five years. He said he will be looking for a new job as a result of the change.

"I'm sad to see it go. I've enjoyed working with the clients," LeSage said. "We were an independent lab. We don't sell ag products or fertilizer. All we did was test for our clients."

LeSange said the Toulon office handled "the full gamut of ag testing," with tests done on soil, plant tissue, livestock manure and water, as well as herbicide screening. He said the office serviced clients from Springfield to the Wisconsin border and received samples from as far afield as Indiana, Ohio, West Virginia and Kansas.

Much of the work focused on gauging soil composition and fertility to help determine the right amounts of fertilizer to maximize crop production on farm land.

Billie Riles, general manager of seed, crop & chemistry for SGS North America, wrote, "We understand the temporary inconvenience this may cause your business and are expediting this transition so that we can continue providing you best-in-class service while minimizing disruption to business continuity."

SGS owns the Toulon building, which was built in 1907 for the Lehman family, which at the time ran a carriage-making business. Since then, the building has housed a feed store, a chicken hatchery, a hardware store and even a miniature golf course. Historical accounts indicate at one time there was also a fountain and a small stream in the building.