Athletes ready for season to heat up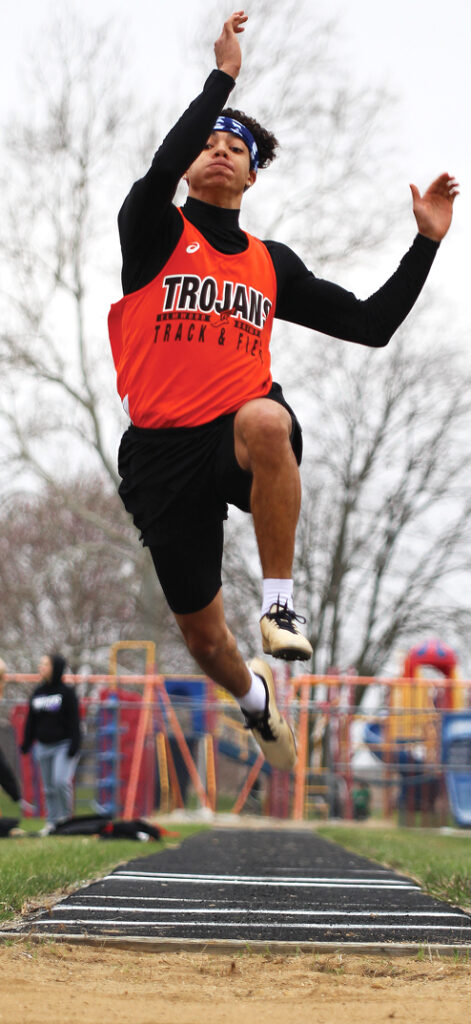 By JEFF LAMPE
For The Weekly Post

Mother Nature is not a track fan. How else to explain the cold, wet, windy conditions that have plagued the start of outdoor season.

The challenge for athletes is to survive the cold and thrive once it gets warm. Here's a look at local teams.

Elmwood-Brimfield
The sun finally shined, briefly, on a track meet Tuesday at Elmwood, where the Trojans hosted the ICAC event.

Thomas Harmon headlines returnees for the Trojans boys squad and is a top candidate to medal in the 800 after placing second during the Illinois Top Times event in 2:00.48. Harmon was eighth in the Class 1A 800 last year.

Also back is E-B's state-qualifying 4×200 relay of Aiden Frail, Brayden Lehman, Jakoby McKown and Johnny York, which tied a school record last year in 1:35.2.

York should also be strong in the long jump.

Sophomore Isaiah Hill also shows promise and won the 800 in a state qualifying time of 2:00.3 Monday at the Lewistown frosh-soph meet. Hill should be part of the usually strong 4×800 relay for E-B, which last year placed second at state.

"We're just trying to figure out who goes where," Coach Gregg Meyers said.

On the girls side, Coach Kyle Anderson has 23 girls out compared to 12 last year. With some of the talent out, he's hoping a girls team that did not score at last year's sectional can contend for a top-five spot.

Back out after celebrating a basketball state title is senior Elynn Peterson, who along with freshman Mya Strahm should provide a "nice 1-2 punch in the hurdles" according to Anderson. Strahm is also a promising pole vaulter, a rarity for the E-B team.

Sophomore Emma May is out for the first time and looks strong in the long jump and sprints, while Etta Wagner is coming off wins in the discus (88 feet, 3.5 inches) and shot put (36-11) Monday at Lewistown.

"We've got lots of interchangeable parts to figure out," Anderson said."

Farmington
The defending sectional champion Farmington girls team returns two battle-tested field competitors: Anna Webel was 14th in discus last year while Miranda Hursey was 16th in pole vault. Hursey also qualified in the 100.

"Miranda Hursey and Anna Webel have already hit state qualifying marks and we are hoping to get more girls down to state this year," Coach Lillybeth Mendez said.

In Saturday's Lee Calhoun Invitational at Western Illinois University, Webel won in discus with a throw of 112-1.25 and was fifth in shot put (29-8.25) while Hursey won in pole vault (10-2.75) and was fourth in the 100 (13.43). Sophomore Kyleigh Miller tied for first in high jump, clearing 4-7
.
Farmington also returns three-quarters of its 4×200 relay: Mariah Hayden, Kyleigh Miller and Emma Basalay.

On the boys side last Saturday, Logan Morse tied for second in high jump (5- 7.75) and Dane Hitchcock was second in the 110 hurdles in 18.11. They both ran a leg of the third-place 4.400 relay (3:46.1) along with Hunter Darhsam and Jake Martin. Martin was also fourth in the 400 (55.23).

Princeville
Senior Grant Hunt leads the Princes after competing in three events at state last year: placing 17th in the 100 (11.35), 22nd in the 200 (23.69) and 15th in the 400 (52.16).

Hunt also anchored the Princes' 24th-place 4×100 relay, which also included Marcel Primera, Denver Hoerr and Tayshaun Kieser. All return. Hoerr is a versatile runner who can also compete in the mile and two mile.

"We've got pretty good depth and have a good freshman class that came out," Princes Coach Jon Carruthers said. "If we had meets we could play with the roster a little, but we've only got five meets scheduled before conference.

"Thank goodness we have an all-weather track. If we had our old [cinders] track we'd probably have been on it twice."

The Lady Princes have two solid throwers in senior Amber Brawley and sophomore Brianna Brodie and will benefit from the return of sprinter Jesenia Horton-Meza in an effort to replace graduated state qualifier Grace Dearing.

Junior Kyra Hilsabeck is back after placing fourth in the 3,200 at sectional.

Emma Stutzman and Amber Brawley are back to run two legs of the 4×800 relay, which was fourth at the sectional.