Lady Indians ranked first in Illinois in AP Class 1A girls hoops poll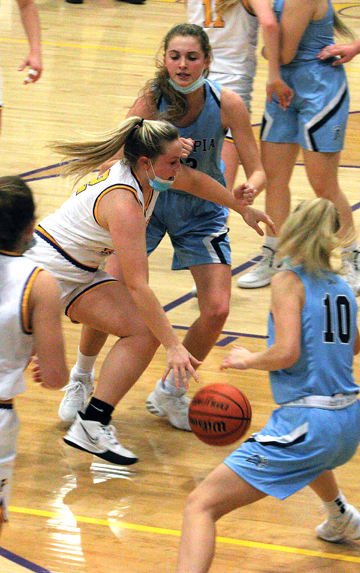 By JEFF LAMPE
For The Weekly Post

Polls mean nothing real when it comes to sports, except in college football. But they are fun. And that's the way the Brimfield girls basketball team has been treating its spot atop the state Class 1A rankings released last week by the Associated Press.

"They're having a blast with it," Brimfield Coach Maribeth Dura said. "There's been a couple pieces about them in the papers and on the internet and they're having a good time."

Part of the reason for that is because Brimfield (7-0) is having a good time on the court, as well.

Blessed with size, shooters and plenty of seniors, the Lady Indians have not been challenged so far.

"We keep getting really good minutes and point production from players I would not consider to be the primary point producers," Dura said. "And our defense has been solid."

The latest win was an 80-31 shellacking of Annawan last Thursday. Ella Lune had 23 points and 9 rebounds in the win, Elynn Peterson added 18 points, Maddie Hessing had 12, Jaclyn Fabry added 10 and Sophie Bedell had 9 rebounds.

Yes, that's the same Annawan team that won 62-39 over Abingdon-Avon, which was ranked No. 5 in the same poll that has Brimfield No. 1.

Are the pollsters missing something? Should Annawan be rated? All those questions will be answered in time.

And Brimfield also needs to be prepared to possibly surrender its top ranking in the weeks to come, thanks to an upgraded schedule that features games against bigger schools like Morton (Saturday), Dunlap (Dec. 21) and then the State Farm Classic tournament after Christmas.

"We've got kind of a tough schedule coming up … and we're looking forward to that," Dura said.

As Dura has said since the season started, those games may not all result in wins, but they will teach lessons that are hard to learn in a blowout victory.

Pollsters, however, generally fail to understand that and often view all losses the same.

Elmwood

The Trojans (5-1) got off to a fast start prior to Monday's 52-38 loss to No. 4-ranked Havana.

Liv Meyers led the Trojans with 20 points while Mae Herman added 12.
Coach Gregg Meyers said that playing Havana offered a good test.

"The teams we've played so far, we should have won those games," he said prior to the Havana game.

Last Thursday, Elmwood beat ROWVA-Williamsfield, 55-38. After falling behind 22-12 early in the second quarter, Elmwood went on a 15-2 run to take control before halftime.

"ROWVA-Williamsfield did a good job and shot the ball well. And when we didn't close some things out and do things we needed to, they took advantage," Coach Meyers said. "We started playing better defense and we started getting the ball inside and that made it easier for our outside shots, too."

Melody Glenn led with 15 points and four treys, while Herman scored 13 and Ainsley Faulkner and Liv Meyers put up 10 apiece. Liv Meyers also had 15 rebounds.

"We had pretty balanced scoring and two with five assists," Coach Meyers said.

Next up for Elmwood is a home game today vs. Bushnell-Prairie City. Fans should note that the varsity game may be played first, due to possibly limited numbers of JV players.

After that, the Trojans travel to the Knoxville Tournament, which will take place over the next two Saturdays. This Saturday, Elmwood plays Ridgewood at 11:30 and West Prairie at 1. On Saturday, Dec. 18, Elmwood faces Knoxville at 10 a.m. and will have its final game determined by its record. All games are at Knoxville.

Farmington

Farmington (3-3) lost a close game at Stanford vs. Olympia (6-2) last Thursday, 34-33.

"We had the lead the vast majority of the game and it was back-and-forth and then they hit both free throws at the end," Farmington Coach Brad Whitcomb said. "We had an opportunity to get a shot off and we executed the play well but the shot didn't go in."

Reece Putrich led the Lady Farmers with 12 points.

"That's a good challenge for us early in the season and a good [Class] 2A temperature gauge for us to see where we're at."

Farmington was at Peoria Heights on Wednesday and then travels to the Knoxville Tournament Saturday to face Illini Bluffs at 11:30 a.m. and West Central at 1.

Princeville

After missing multiple games due to a rise in COVID cases that sent students home for remote learning, Princeville (0-1) gets back into action Wednesday at Ridgewood.