Herrmann Farm's history dates back to German ancestor in 1911
By Collin Fairfield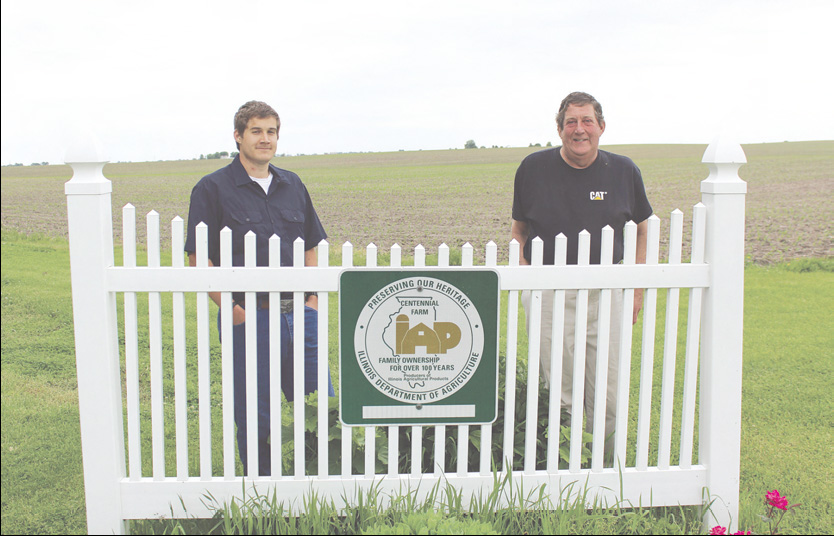 EDELSTEIN – Most people know the Herrmann House on Illinois Route 90
in Edelstein as the house with the red caboose. But the Herrmann name has been synonymous with agriculture for over 100 years.

Dennis Herrmann (fourth generation) said, "It started with Gottlieb Herrmann born in 1865 in Germany. Gottlieb's family decided to move to the United States to pursue better farm opportunities."

Gottlieb's family settled in Leo, Ind. But when he was 17, Gottlieb's father died, so the family moved to Morton. There Gottlieb got a chance to work on a farm near Princeville. Gottlieb also found love in Princeville, marrying Sophia Streitmatter and starting a family. They were blessed with two sons, Albert and John, before Gottlieb died in 1938 at the age of 73. Before that, he saved enough money to buy the family farm in 1911.

Albert started the second generation by farming 500 acres. Albert was the first to install electricity at the farm. He married Louise Siebenthal and the family was blessed with five children (Eugene, Noah, Harry, Walter and daughter Margaret).

Harry Herrmann started the third generation on the farm, but Uncle Sam halted his farming career for a few years. He fought in the Korean War for two years with the U.S. Army. Harry would farm on Route 90 for 60 years.

"That's where the current house and farm currently reside," Dennis said.
In 1957, Harry married Bertha Jean Kieser, a Wyoming graduate who came from a farming family as well. Harry and Bertha Jean were married for 54 years until Harry's passing in 2011.

"He had the current house built in 1974 and completely changed and modernized the buildings. Some to this day are still standing," Dennis said.

When Harry wasn't in the fields during planting or harvest time, he was busy in the community. He was a Peoria County Farm Bureau Director for two years, Vice President for one year and President for eight years.

Harry also served as President of Peoria Pork Producers and the Peoria County Beef Association. Dennis said his dad, in 1988, was named Prairie Farmer Master Farmer.

Harry and Bertha Jean also got media attention when they hosted Visit a Farm Day for several years, giving kids from the city a chance to experience farm life for a day.

"It was a culture shock to most of the those kids!" said Dennis, whose siblings are Cheryl, Crystal and Cynthia.

Unfortunately, Dennis said Harry died just two weeks before the farm
turned 100 years old.

As in previous decades, the 1990s also saw changes. First Harry and Bertha Jean decided to move to Ostrom Meadows in Princeville and Dennis became the fourth generation on the family farm.

In 1992, Dennis married Renee Stieglitz. By 1994 Dallas was born and then came Victoria (Tory), Daniel and Destiny. Dennis is approaching his 50th year in farming. "Just like my dad, I found myself in the media, the Chicago Tribune ran an article about conservation featuring (me)," Dennis said.

In November 1999, tragedy struck the area, as a Union Pacific derailed and spilled coal onto the farm property. After the spill was cleaned up, Dennis had a unique request for compensation.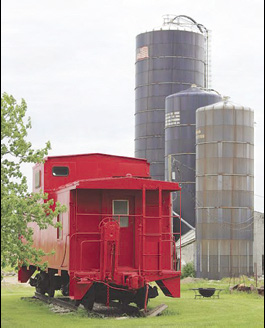 "We only had two kids at that time and Renee wanted a caboose," he said, explaining that his wife thought the caboose would be a unique way to home school. As the calendar flipped to 2000, Union Pacific delivered the tracks and caboose. Dennis said the only thing he did was to paint the car.

This year, Dennis is slowly stepping back and letting son Dallas – the fifth generation of Herrmanns – handle more responsibility. A 2008 Princeville High School graduate, Dallas is also studying diesel mechanics at Illinois Central College.

When he is not studying, he keeps the farm machinery running. During planting and harvest time, Dallas estimates he will work 12-hour days – unless there's rain coming, in which case the days can stretch to 14 to 16 hours.

Last year, neighbor Brian Elsasser helped with harvest when Dennis was unable to work for medical reasons. Dennis has recovered now and is back working at Caterpillar, Inc.

Asked about the sixth generation, Dennis said, "Not for a few years. But when they do arrive they can tell people their house had the big red caboose."