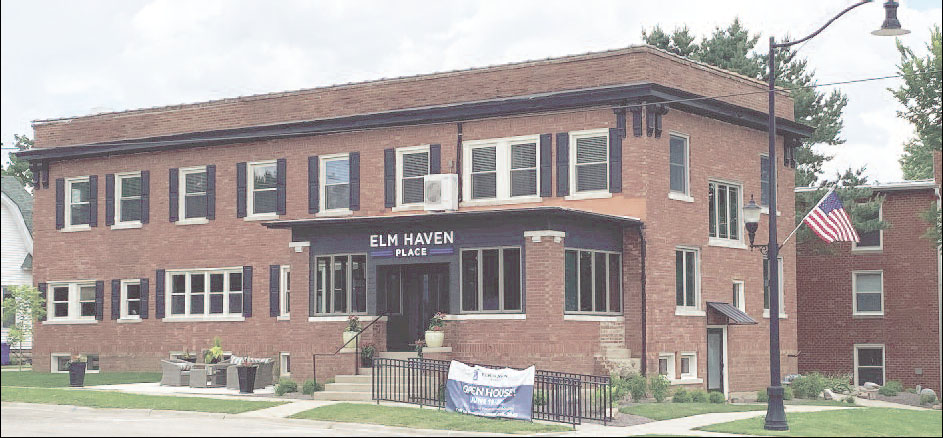 By JEFF LAMPE
Weekly Post Staff Writer

ELMWOOD – New life has been breathed into an iconic Elmwood building, whose coming out party was last weekend.

During an open house last Friday and Saturday at Elm Haven Place, located at the corner of Rose and East Main streets across from Central Park, more than 600 visitors toured the renovated building, which previously housed a hotel, hospital, nursing home, apartments and even a lawyer's office.

Many who walked through the 108-year-old building raved about the renovation overseen by new owners Mike Gudat of Peoria Heights and Joe Fontana of Peoria.


"Generally speaking, people we're extremely pleased, excited with the redevelopment and with bringing Elm Haven back to its glory days," said Gudat, who like Fontana is a Farmington native. "We've had a tremendous amount of positive feedback." Gudat said 15 of an eventual 22 rental units are completed in the building and are available for people to start moving in on Aug. 1.

Gudat and Fontant purchased the building in February of 2019 but did not start renovations until June of last year. Since then, they have basically gutted the inside while maintaining the familiar brick exterior.

"We revamped the HVAC, took out the old boiler, put in a new elevator, put in – generally speaking – all new plumbing, all new electrical and updated every wall, floor and ceiling," Gudat said. "The building has gone from 1919 to 2020 technology."

Each apartment has a living space, kitchenette, bathroom and bedroom. Fixtures, floor coverings and appliances are all new. The facility includes laundry rooms and common areas throughout and a landscaped courtyard.

"We worked with interior designers to make sure fixtures and features communicate a home environment," Gudat said. "It's meant to be a home, not an apartment."

Gudat, 52, said he actually toured Elm Haven with the former owner, the late Julie Hauter, "probably five times about three or four years before we purchased it."

At that time, though, he was still working full-time at Cisco. Since then, Gudat has "retired" from working for other companies and has more time to focus on his March 2 Ventures, which manages 750 tradtional apartments and is involved with several real estate projects.

Another current project Gudat is part of is revitalizing the old Keller Station IDOT building in Peoria into commercial and retail space.

But he said the Elm Haven renovation has been unique and particularly satisfying.

"Joe and I and our families are proud to have had this chance to bring Elm Haven back to its glory," Gudat said. "It's been fun kind of taking that legacy property in Elmwood and really revitalizing it."

The next step is filling the units, which Gudat said will rent for $1,500 to $1,800 per month. That includes all utilities, cable TV, WiFi and monthly cleaning.

As part of an open house special from Aug. 1 to Oct. 1, those signing leases do not have to pay a deposit, pay just $1,000 for the first month's rent, get $50 gift cards from Bean's Family Market and the Uptown Cafe and are eligible for free help moving their belongings to Elm Haven.

"We're trying to make it very easy for folks to make the transition," Gudat said.

As part of that, Elm Haven Place is collaborating with Bean's Family Market and the Uptown Cafe for deliveries of meals and groceries.