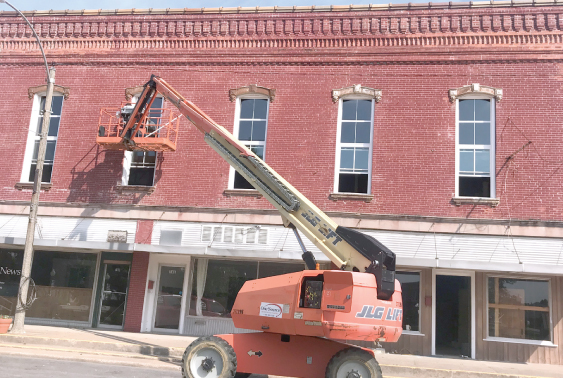 By Carol Townsend

GALVA – The City Council accepted the only proposal for the Galva Opera House block at a special meeting Monday night.

The proposal came from Brian Anderson of Galva, owner of Anderson Family Coffee which opened in Galva in 2019.

Anderson offered the City of Galva $25,000 and will receive the deed once he presents receipts for $60,000 in materials for repairs, which must be done within two years.

The City of Galva purchased the property for a price of $25,000 a few years ago when someone had purchased the structure for back taxes.

City administrator David Dyer said the City of Galva has about $61,000 to $62,000 in the structure with the new roof, tuck pointing the structure twice, hiring someone to totally clean out the structure and installing new eaves and new windows.

Anderson said his proposal includes investing about $237,000 as part of a four-year plan to renovate the building.

Anderson said his plans include having his coffee shop in the far east storefront.

In the middle of three ground-level storefronts, he envisions a coffee lounge and craft and gift shop.

"I'm going to have retail coffee, t-shirts and mugs and coffee items," Anderson said. "And then I'll open to some family members who are crafters and small business owners to feature their things and different community, at-home businesses. I want to bring in as much retail as I can."
In the former Galva News storefront, someone has approached Anderson with an idea of bringing a newspaper to Galva that would cover, Galva, Bishop Hill, LaFayette and part of Knox County and might due monthly publications to focus on Galva history.

In the old Opera House, Anderson said he plans to eventually have concerts, dances, weddings, receptions, class reunions, etc.

Third-ward alderman Jackie Clucas asked Anderson if he had anyone check into the structural stability of the upstairs to determine if it can handle dances and concerts.

Anderson said he has, but has not received the full report back yet.
Clucas also asked if the city will inspect the work. Dyer said city building inspector Ron Peterson will be doing the inspections as needed.