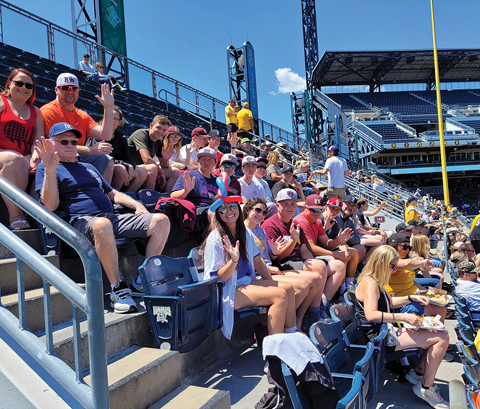 By PHIL JOHNSON
For The Weekly Post
ROWVA-Williamsfield's memorable baseball season of 18-8 ended three weeks ago with a heartbreaking loss to Illini Bluffs in sectional play. But the season didn't really end there.

After the season ended, players, coaches and a number of parents embarked on a baseball road trip that included a visit to Cooperstown, N.Y., to experience the Baseball Hall of Fame.

While the 2021 baseball season was still in its early stages, R-W Head Coach Arnie Gonzalez was already thinking about this year's seniors, who had lost all of their junior season to COVID-19 restrictions. Gonzalez pondered how their great love of the game could be further enhanced.

"I talked to one of our parents, Amanda Secrist, on the idea of a team trip to the Hall of Fame," Gonzalez said. "Ideas were shared. Families were very supportive, and fundraising was a great help towards expenses."

The coaching staff, eight parents and 17 players headed northeast on June 20, staying overnight in northern Ohio. On Monday evening the caravan arrived at their hotel in Herkimer, N.Y., about 20 miles from Cooperstown.

"People who have never been to the state of New York think of that area as metropolitan, but we saw amazing hills, mountains and trees," Gonzalez said.

The group saw historic displays, movies, iconic Doubleday Park and, of course, the hall of plaques of the Hall of Fame players.

"I was thinking of my four- year- old brother Dawson while in the hall. He is already completely into everything baseball," senior-to-be utility player Dylan Tucker said. "Also, Doubleday Field is a great setting."

"A movie on the great players talking about the big moments really brings you in, and Cooperstown is a town of unique restaurants and shops," said junior-to-be catcher Lance Trotter.

"Most of all, the R-W players were just enthralled with being at the Hall of Fame," Gonzalez said.

But there was more baseball to savor on the trip. The crew next headed south to Pittsburgh to see the Pirates match up with the Chicago White Sox in inner league play at the major league level. The White Sox won, 4-3.

Next stop took the caravan to Cincinnati to see the hometown Reds defeat the Atlanta Braves, 5-3, followed by the trip back home on June 25.

For a team of young men with a passion for the game of baseball, this trip could only further feed that interest.