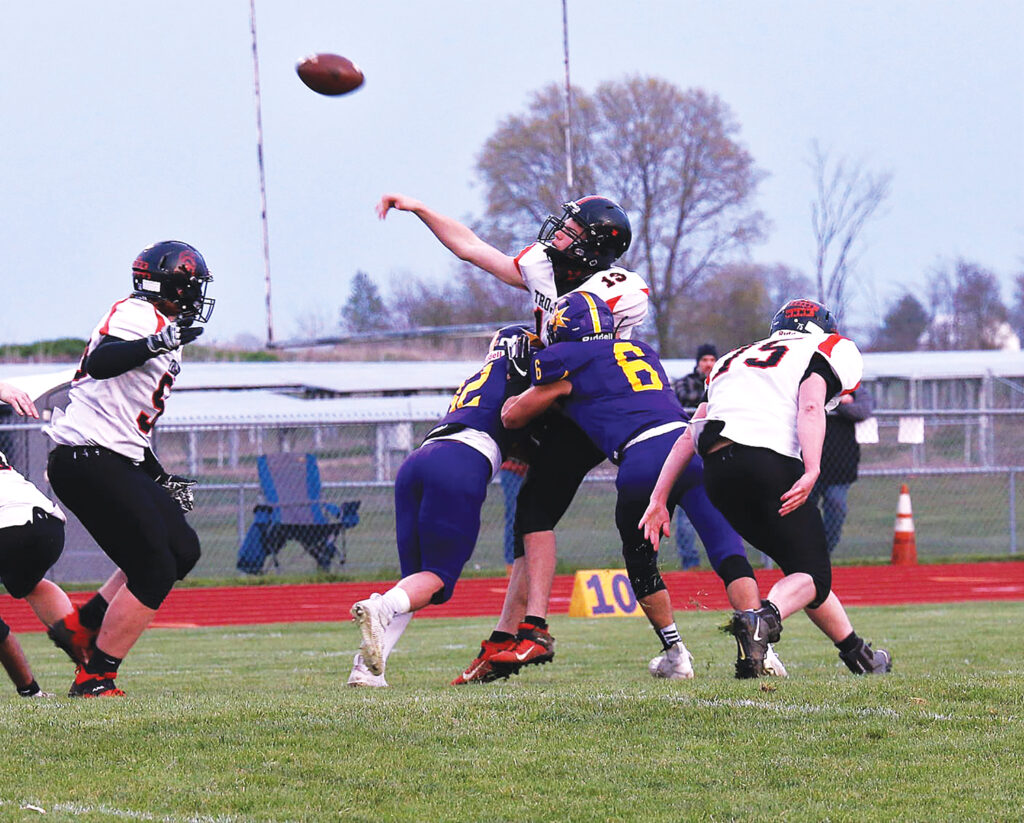 By JEFF LAMPE
For The Weekly Post

ELMWOOD – With an unusually small senior class of five, Elmwood-Brimfield won't have its usual depth and will likely play more starters both ways than was once the custom for the Trojans.

But that's OK with Coach Todd Hollis, who says the seniors have been great leaders and deserve to play both sides of the ball, anyway.

Hollis said he was looking back through game films of his first two playoff teams and was struck by how many players on those teams started on offense and defense.

"So the two-way doesn't matter. If they're good enough to play, they're good enough to play," Hollis said. "The senior class is solid. They all started last year and they've played a lot of minutes.

"And what our seniors have done for the culture and attitude of this team … I think that's huge right now and is laying the groundwork for what our group next year will be."

The most veteran of the senior crew is quarterback Noah Hollis, who has started parts of two and a half seasons and knows the ins and outs of the Trojans' run-dominated offense. He figures to be handing the ball off plenty this year to speedy running backs Johnny York, a 5-foot-9, 155-pound senior, and junior Aiden Frail (5-7, 135). They were two legs of E-B's state-qualifying 4×200 relay team and both will cause headaches for opposing defenses.

"They can erase mistakes with their speed," Todd Hollis said. "And when you have the speed at running back that we have … we've worked on some stuff that's a little more open. But it's just having a split end instead of a tight end. Nothing crazy."

Junior Rohman Mitchell (5-7, 140) is the starting fullback.

If teams pack the line too much, 6-5 senior tight end Victor Lenzi and 6-1 junior Tyler Scheps figure to be good options in the pass game. But there's no question about the Trojans bread and butter, Coach Hollis said.

"Our guys … they're not drunk with the idea that we're going to come out and throw the ball 20 times a game," Todd Hollis said. "When I go into the huddle and give them a situation … they're not calling for passes. The linemen are calling out good running play options. They know what we are. We're still that."

Leading the offensive line are senior returnees Jack Trone (5-9, 235) at right tackle and Corbin Draher (5-9, 210) at right guard, with sophomore Caleb Hollis (6-1, 240) at left guard after starting last year at center. Junior Mason Geeseman (6-0, 210) is the center and freshman Aaron Brown (6-0, 270) will start at left tackle.

Brown and starting linebacker Bo Windish are the first freshman to start for the Trojans since Brady Westart.

"The first day of summer practice, a few of the junior and senior linemen came up to me and said, '[Brown] is ready to play right now,'" Todd Hollis said. "And Bo is just gifted. He runs like a deer.

"For a number of years, I've gone to the all-conference meeting and [Farmington Coach Toby Vallas] has had some freshman who are playing. And I'm like, 'Where do these kids come from?' Now we have a couple of them and I realize, 'Oh, they walk out there and they're ready to go.'"

Windish is part of a fast linebacking corps that also includes Mitchell and junior Slone Windish (6-0, 175), who did not play this spring because of work constraints on the family farm. Coach Hollis said those linebackers are among the six fastest players on the team.

Two of last year's linebackers – Caleb Hollis and Draher – are moving to the line, with Draher at tackle and Caleb Hollis at end.

"So in theory, you have five linebackers on the field, which is nice," Coach Hollis said.

Lenzi will play the other defensive end position, with Trone inside at the other defensive tackle.

York and Frail are both fast, hard-hitting defensive backs and Coach Hollis said York "has to be one of the best in the conference." They will be joined in the secondary by juniors Jacob Avery (5-11, 135) and Oliver Heinz (6-1, 145), with sophomore Bailey Elwell (5-7, 150) providing depth.

Given that speed and experience on defense, Coach Hollis said that side of the ball may be a bit ahead of the offense heading into the season opener with Illini West, which won its last meeting vs. the Trojans. Hollis said Illini West has about the same amount of experience back as the Trojans.