Memories linger, but little other evidence left of county's costliest twister
By JEFF LAMPE
Weekly Post Staff Writer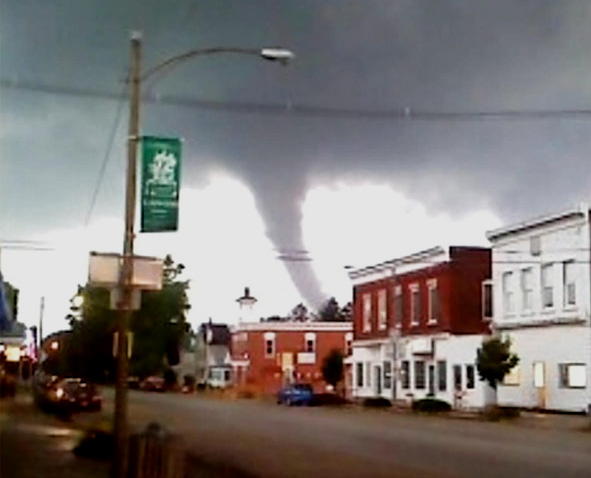 ELMWOOD – The tent is still missing. Ten years later and there's still been no word of someone finding the large, canvas food tent that was set up in Central Park for the Strawberry Festival that Saturday.

"I've never heard anything about that tent since. I have no idea where it went," said Pat McGuire, one of the Strawberry Festival organizers. "But I do remember the firemen coming into the tent and telling us to get out. [Husband Jim McGuire] and I were the last two people in there. We were counting money and they came running and said, 'If anybody is in here, get out.'"

So it went all over town that evening of June 5, 2010, as residents of Elmwood scrambled into basements, bathrooms and any other safe place they could find while an EF-2 tornado wreaked havoc on the downtown.

The most-costly tornado in Peoria County first touched down 4.5 miles northwest of Yates City at 7:56 p.m., then lifted 1 mile east of Elmwood at 8:07 p.m., according to the National Weather Service. The twister was one of 19 that touched down across northern Illinois that evening, with damage also reported near Oak Hill and Edwards.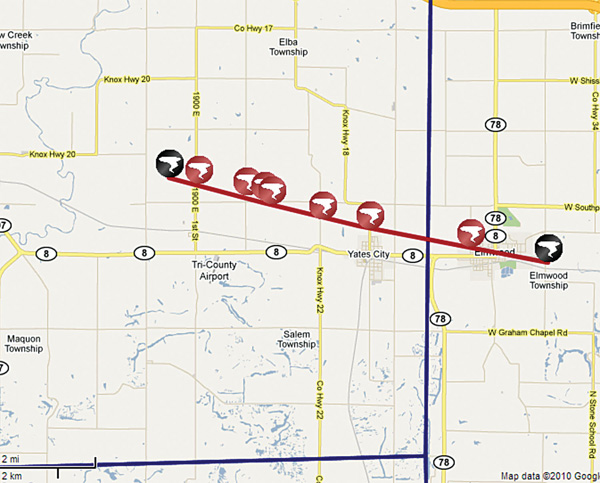 The worse destruction – some $85 million worth – was centered in Elmwood, where roofs were lifted off buildings, wires were downed and trees were toppled.

Yet 10 years later, after an aggressive restoration campaign, there are few outward signs of the storm that rocked this town of 2,100. Where piles of bricks and rubble once stood are well-kept buildings. But the memories are still there.

Tornado Tales

Anyone who was in Elmwood on June 5 has a story to tell about where they were when the storm hit. Some got to see much more than they wanted.

Nick and Sarah McElroy lived above the former McGuire's Shoe Store at 104 W. Main St. with their children, Riley, 3, and newborn Savannah.

"Riley was potty training at the time and he was actually sitting on the potty. When we heard there was a tornado in town Sarah grabbed him and headed down the stairs with him," Nick recalled.

"I just yanked him off there. No drawers on or anything," Sarah laughed. "We just booked."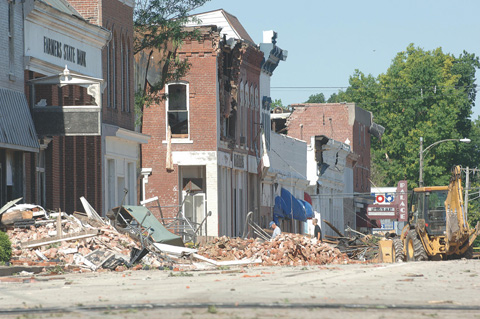 The McElroys huddled behind a downstairs wall in a beauty parlor that occupied the former shoe store.

"A lot of dust came down. There was a lot of noise and the suction was so bad it kind of made our hearing go quieter," Nick said.

After the storm passed, the McElroys first headed to the basement below Woppers bar. But a gas leak there forced everyone out and to the high school.

Eventually, they got back into their apartment for one day. Most of their possessions were ruined.

"I specifically remember we could see daylight in several places," Nick said. "And our bedroom wall was down on the street."

In the days that followed, Melvin Brewer offered the family a home to rent. Others donated clothes and cooking utensils. Even money.

"The next morning, someone showed up and handed me a check," Sarah said. "I grew up in a big, impersonal town, so that just floored me. 

"We ended up with enough stuff to fill three houses and wound up re-donating some. It was so overwhelming."

ESDA Plan

The scope of tornado damage was immense in the downtown area. Thirty-three of the 41 downtown buildings were considered "structurally unsafe" after the storm.

City Hall, which had been recently remodeled, saw its east wall crumbled. The Palace Theatre roof collapsed and the Elmwood Township Community Center's roof blew away. The Home Shopper Publishing building at 116 S. Magnolia had its roof peeled right off.

Among the hardest hit of all were buildings on the corner of Main and Magnolia that once housed the Fair Store, Hometown Hardware and Elmwood Pharmacy. 

Yet within a year, many businesses were operating again. That was no accident.

Among the first steps to recovery was an immediate one – following an Emergency Services and Disaster Agency plan that had been tested one year earlier following straight-line winds that left nearly all city streets impassable due to downed trees.

Having an ESDA plan in place provided a framework to allow local leaders of the city and police and fire departments communicate well and get the resources they needed to do their jobs, said Tim Harms of Elmwood, the local ESDA coordinator.

"I remember how well everybody filled into those roles. We had the city secured quickly. We had the resources we needed," Harms said. "Washington didn't have a plan like that. That's why it took so long for their cleanup."

More than just the plan, though, were the people, Harms said.

"My famous quote was that the city of Elmwood was never about the buildings, it was always about the people. And the people were fine," he said. "We had zero injuries. There were zero transportable injuries, even during the cleanup. That was the blessing in it all."

Recovery

Another step toward recovery was hiring Dick Taylor as recovery administrator. Taylor had recently been laid off by Peterson Health Care after his job in the construction department was eliminated. 

Faced with a massive list of chores and with potential opportunities to rebuild, Elmwood called on Taylor to put his construction background – and even-keeled demeanor – to good use.

"Everybody seemed to be on the same page. It was almost like everybody knew they were going to hang in there and rebuild," Taylor said. "And everybody seemed to be going in the same direction. From that standpoint it was very easy to manage things. It was more coordination, because everybody took charge of their own rebuilding and were involved with their insurance companies."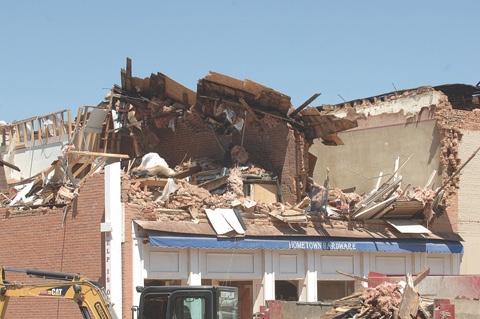 Help came from various sources: a downtown TIF district, creation of an enterprise zone to aid rebuilding, an $800,000 grant from the Community Development Assistance Program, a USDA revolving loan fund and then $2.2 million in Illinois Transportation Enhancement Program grants that tied the restoration together with a new streetscape.

"I know some people weren't really happy with the streetscape, but I think the streetscape and everything else … [Doug Whitney's] new building and everybody else rehabbing and rebuilding their buildings, I think it made the town look a lot better," said J.D. Hulslander, who was a 32-year-old mayor when the tornado hit. "Not that it was horrible in the first place. But it polished it a little."

Reconstruction continued with expansion.
Doug Whitney finished an impressive replacement of the building at one corner of Main and Magnolia, even adding a clock tower that plays music on the hour.

Jordan's Mobil expanded its operation with an all-new building featuring three hoists and plenty of room for tire repair.

New restaurants and retail businesses were drawn to town. While some have moved on, most have been replaced by others.

"Elmwood was going the route of most other small towns prior to [the tornado]. The Fair Store had closed. Gradually you were seeing a change for the worse," Taylor said. "It just kind of turned things around. And I'm afraid if it hadn't come along, it would have taken people awhile longer to wake up and make things turn around.

Today
COVID-19 restrictions forced the cancellation of this weekend's annual Strawberry Festival, though some businesses will still sell strawberry treats in honor of the festival.

Had people gathered in Central Park, they would have seen little indication of the tornado's impact.

"Really, the only thing we have left is the empty lot. That's about the only reminder," Hulslander said.

Harms said there was even benefit in the tornado. "It was just devastating at the beginning. It's like any crisis we go through. Eventually you'll see something beautiful if you just look for it," Harms said. "I think the city is more beautiful now then it ever has been."