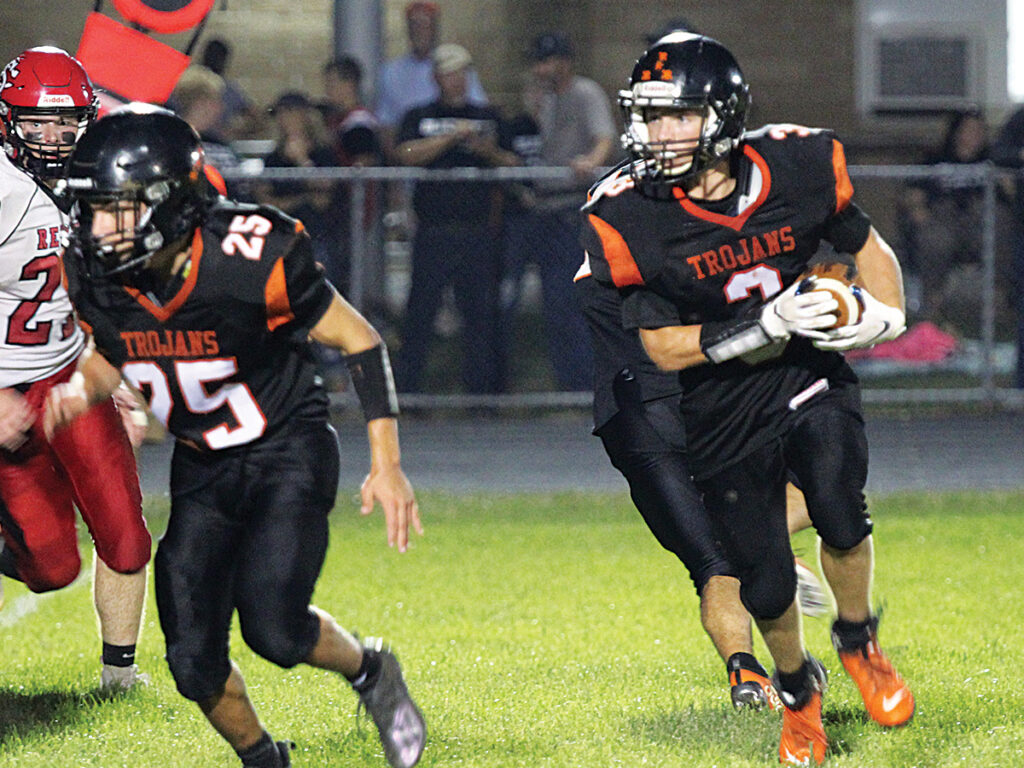 By JEFF LAMPE
For The Weekly Post

ELMWOOD – Gavin Buhl was as quick to share the credit as he was to the hole last Friday during a career-best evening.

After rushing for a season-high 165 yards and two touchdowns on 31 carries in a pivotal 30-9 win over Stark County, the Elmwood-Brimfield junior Buhl had kind words for his offensive line.

And that was no false praise. Both wingback Buhl and running back Aiden Frail (100 yards, one touchdown) had room to run against a Stark County team that – like the Trojans – was in dire need of a win in this non-conference clash.

"We got into an overloaded formation so we had an extra tackle on the right side. That put beef against beef instead of their big guy going against our tight ends and wings," E-B Coach Todd Hollis said. "And then [Buhl] was hitting it really quick. It wasn't sweeps and stuff. Some of that is stuff in running backs you can't teach. They see that hole. It isn't where you draw it up, but that's where it shows up and they just dive through the open window."

For a half, though, the outcome was in doubt. After going up 16-0 on 12- and 15-play drives, the Trojans (2-2) gave up a 64-yard scoring run by Jordan McCauley and went into the lockers up 16-9 following a 35-yard field goal by Stark County's Daniel Kieser as the second quarter expired.

Any momentum the Rebels (1-3) gained from that kick dissipated qon the opening drive of the third quarter. After moving to the E-B 45-yard line, the Rebels fell apart.

"We lost that drive on first down.

We had a play we talked about running at halftime. We completely malfunctioned. Then we run a pass play that we run every day and we malfunction there too and our quarterback had to throw it early," Stark County Coach Jade Noard said.

Jake Avery picked off the pass for E-B, which then drove 67 yards in 14 plays to go up 22-9 on a 3-yard run by Slone Windish. One drive later, the Trojans capped the scoring on an 11-yard run by Buhl with 1:15 left in the third quarter. Stark County drove to the Trojans 10-yard line in the fourth quarter but could not score.

"That was kind of the story of the night. We can't run our base offense consistently correctly. That's why we're not finishing drives," Noard said. "We had the ball down inside the 20 twice and got no points. You can't do that."

 The Trojans finished with 292 yards rushing and held Stark County to 191 on the ground and 35 through the air.

"I was nervous coming into this one," Hollis said.

Next up for E-B is Friday's Homecoming clash against winless West Hancock (0-4), which has been outscored 195-22.

Princeville 17
ROWVA-Williamsfield 14

ONEIDA – For the second week in a row, Princeville (2-2, 2-2 LTC) rallied for a win against a Lincoln Trail Conference foe.

This time the Princes had to come back against ROWVA-Williamsfield, which scored 14 unanswered points in the second half to take the lead. But Princeville rallied with a 19-yard scoring run by speedster Grant Hunt to earn the victory.

"We ran a counter and the line blocked for him and he went in untouched," Princeville Coach Jon Carruthers said. "In our notes on film we said that's probably the easiest touchdown you will ever have."

Carruthers said the offensive line did a good job for Hunt, who led Princeville with 81 yards on 15 carries. Hunt was called on more often with Denver Hoerr (one TD, 73 rushing yards) hobbled a bit.

"We were down and our line stepped up big time and just started running the ball like we do," Carruthers said. "In the last two weeks these kids have been down and have faced adversity and have come together.

"And Hunt really had a breakout game. Everything was inside the tackle box, which is surprising being the speedster that he is."

The Princes picked up another win Tuesday when Lewistown called in a forfeit of Friday's game. Lewistown took 18 players to its win over South Fulton last week, including six freshman. But after several injuries, the Indians opted to forfeit this week's game.

Farmington 54, Illini West 6

CARTHAGE – The Farmers (4-0, 3-0 Prairieland) head into the meat of their schedule with the run game hitting its stride.

Ahead 28-6 at halftime last Friday, Farmington ran the ball with power in the second half en route to a total of 387 yards on the ground.

"We threw the ball around early and got a few things going and I think our offensive line took over in the second half," Coach Toby Vallas said.

"The offensive line has gone from being something we were worried about to being a strength. Credit for that goes to Nick Hoffmann, who coaches the line."

Senior running back Kevin Shultz led the way for Farmington with 165 yards and two TDs on 15 carries.

"Kevin is probably one of the hardest workers I've had," Vallas said. "He deserves more credit. And he's a great blocker."

Junior quarterback Gage Renken also had his best running performance so far this year, racking up 114 yards and two scores on eight carries.

Renken also passed for two scores, one a 25-yarder to Corbin Rutledge, the other a 36-yard toss to Kane Fox.

Next up for Farmington is a home game against Macomb (3-1, 2-1) and its potent passing attack, run by quarterback Jack Duncan.

"Their QB is very good and they have two good receivers: one is fast and one is very polished," Vallas said.

In other news for Farmington, the team could be headed for a Class 2A playoff appearance, instead of its usual 3A, where the Farmers are rated No. 7 in the state this week.

Prairieland Conference

Macomb QB Duncan continued his recent hot streak, passing for five touchdowns. Three of those went to JT Jeter and the other two to Langdon Allen in a 52-2 win over West Hancock. Tyler Welch and Denzel Cochran both ran for Bombers scores. … Ranked No. 8 in Class 2A, Rushville-Industry ran for 384 yards and averaged 13.2 per carry in a 56-6 win over Havana. … Winless Lewistown upset South Fulton 26-14.

Lincoln Trail Conference
Three LTC teams are ranked this week: Knoxville is No. 9 in Class 2A and Abingdon-Avon and Annawan-Wethersfield are tied for 8th in 1A.