Farmington runs past W. Hancock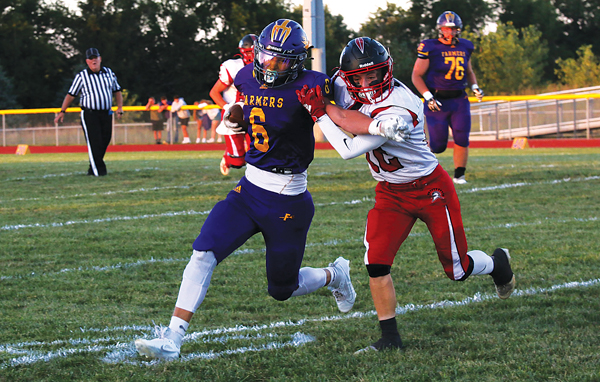 By JEFF LAMPE
For The Weekly Post

FARMINGTON – Anybody who says Farmington is a passing football team need only have attended last Friday's game to see the difference between pass happy and win happy.

Visitor West Hancock airs it out as much as anybody in prep football, launching 46 aerial attempts last week alone. And while Farmington will throw it, the larger goal for the Farmers is just to win.

Last week, the road to a 45-20 LincolnLand Conference large-division victory for the Farmers was on the ground. That's where running back Jack Wheelwright racked up 222 yards and two scores and fullback Logan Utt added 144 yards rushing and two more scores.

On both of Utt's scores, which went for 26 and 11 yards, the big fullback needed only to run straight to reach paydirt.

"The line did a nice job and those two really ran hard," Farmington Coach Toby Vallas said. "Once we really got into it, the run was just there so we just went to it and stuck with it."

Farmington (2-0, 2-0) also got an 87-yard interception return for a TD by Hunter Darsham that was set up by a strong QB hit by Carter Lambin.

And while Farmington has been known to sling it at times, the Farmers needed just 31 passing yards and six attempts this time around, one of which resulted in a 13-yard scoring strike from Lane Wheelwright to Jerrett Fauser.

Even so, the Farmers were in a bit of a game throughout as West Hancock (0-2, 0-1) passed for three touchdowns.

"They throw it so much they make us look like a Wishbone team. I definitely think they are a team on the rise," Vallas said. "We told (the team) they are going to complete some underneath stuff. But we limited the big plays and run after catch. I felt we did OK."

West Hancock replaced junior starting quarterback Gavin Grothaus with senior Evan Carel partway through the game after Grothaus was hurt.

Farmington didn't help its own cause with a variety of mistakes that included five fumbles.

"We're still making a lot of unforced errors, assignment errors, blocking the wrong person, going the wrong way," Vallas said. "

The coach hopes to iron that out before kickoff Friday at Tuscola, which came into the season ranked sixth in Class 1A before an upset loss to Peru St. Bede in its opener. Tuscola bounced back last week with a 49-30 win over Carlyle.

"This will be a good game. It's good prep for the playoffs to go on the road against a good team," Vallas said. "Their offensive line is very big and offensively and defensively, scheme-wise we do lots of the same stuff.

Illini West 34
Elmwood-Brimfield 14

ELMWOOD – Things didn't start well for the winless hosts in this LincolnLand large-division game.

A big play from Illini West (a 50-yard touchdown pass) and some Elmwood-Brimfield mistakes (a 56-yard IW fumble recovery) led to a 22-0 second-quarter Trojans deficit.

"We had two plays in a row where somebody didn't get the message," E-B Coach Todd Hollis said about communications breakdowns that resulted in fumbles. "And then we got things cranked up and rolling on both sides of the ball."

Landon Kline and Bo Windish each ran for second-quarter touchdowns that pared the Trojans' deficit. The hosts were driving again in the final seconds of the half, to about the IW 10-yard line, but were unable to score.

"We go into halftime with the momentum, then came out and didn't do anything in that first drive offensively," Hollis said. "Take away a couple of things there and that game might flip-flop."

Windish finished with a game-high 96 yards rushing, and teammate Layne Durst gained 75. Hollis also cited good performances from juniors Joey Burkitt at safety and CJ Ramirez in his first extended stretch at quarterback.

"Joey might have solidified himself as being able to play both ways," Hollis said about Burkitt, a tight end on offense. "He came in and was physical. We needed to set an edge, and he set an edge."

Friday night at Hamilton West Hancock begins a month-long run of passing-oriented opponents, instead of the ground games E-B has seen so far, according to Hollis. He said his team was better against Illini West than it was against Knoxville in the season opener, but it wasn't quite good enough.

"We've still got a bunch of guys who are still figuring it out," Hollis said. "This is still a group that has the talent and the ability to be pretty decent."

– Nick Vlahos

Elsewhere

Knoxville took control of a close game by scoring the final 14 points in a 48-30 win over visiting Macomb. Macomb QB Braden Holthaus passed for 205 yards and four TDs. … Mercer County bounced back from a disappointing opener by hitting the road and upending Peru St. Bede, 38-13. Ranked No. 9 in Class 1A, St. Bede had upset 6th-ranked Tuscola in the opener.