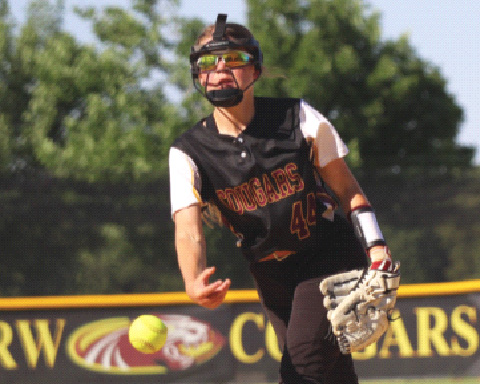 By JEFF LAMPE
For The Weekly Post

Two local softball teams ended last Friday hoisting Class 1A regional plaques – one expected and one a surprise champion. Actually, regional plaques are being mailed by the IHSA since there were technically no home regionals. But the point is, two teams earned a postseason title after following different paths.
While top-seeded ROWVA-Williamsfield routed two regional foes, 18-0, a young Princeville squad continued its late-season improvement with a pair of wins.
And neither showed any sign of slowing in the sectionals, with each winning 1-0 pitcher's duels on Tuesday.
For R-W (17-11), Katelyn Aldred allowed three hits in eight innings and Ashlyn Murdock scored the winning run in the bottom of the eighth after reaching on a bunt single. She advanced on a bunt by Olivia Farquer, who reached on an error, and Murdock then scored on a two-out single by Ava Landon.
Princeville (8-10) topped Sterling Newman Central Catholic, 1-0, Tuesday as Bridget Gilroy allowed just two hits and fanned five in seven innings of shutout pitching. Emmaline Perkins tripled for one of six Princeville hits and scored the game's lone run as Kinley McGinn drover her home .
That sets up a sectional final showdown between R-W and Princeville today at 4:30 p.m. in Princeville. R-W won the regular season meeting, 6-2.
Here's a rundown on the regionals.
ROWVA-Williamsfield
WILLIAMSFIELD – The Cougars pounded out 23 hits and 18 runs to win two regional games, while R-W pitchers Aldred and Landon yielded just five hits in the two shutouts.
R-W (16-11) earned its second straight regional title with a 10-0 win over Henry-Senachwine last Friday.
Landon allowed three hits and one walk while fanning seven. She got plenty of support in the first two innings, as R-W scored four in each frame and sent 10 batters to the plate in the first.
Calyn Garza led the hit parade with a 3-for-4 showing, three RBI and a triple and double. Bella Kuelper was 2-for-4 with two RBI for R-W.
In the semifinal, the Cougars got two hits apiece from Jenna Woodside, Landon, Kataleena Hunt andFarquer. Landon also had three RBI and Hunt had a triple.
On the mound, Aldred struck out four, allowed just two hits and did not walk a batter.
"It's been a total team effort. We've been able to get some great hits by Calyn Garza, Maddie Nelson and, mostly recently, Ashlyn Murdock," Coach Joel Zaiser said. "We've had solid pitching by Katelyn Aldred and Ava Landon. We had several really great defensive plays by Avery Rigg and Whitney Godsil in the outfield.
"We are looking forward to finishing off the season strong and seeing how far we can go with this team."
Princeville
Since starting 0-9, the young Lady Princes have been on a hot streak that carried over into three straight postseason wins, two in the regionals.
The turning point for Princeville, according to Coach Brian Holt, was a 10-6 win over Monmouth United back on May 27.
"Getting that first win over a good United team gave them the confidence that the hard work was paying off," Holt said. "All and all it was time … time that the younger players needed to adjust to varsity and gain confidence."
The return of freshman shortstop McGinn – who missed the first eight games with an injury – has also helped, Holt said. McGinn has hit .444 with 10 RBI to provide another bat alongside Perkins (.446, 16 RBI) and to support pitcher Gilroy (89 strikeouts in 80 innings pitched and a 2.53 ERA).
McGinn had four RBI in last Friday's 13-2 win over Peoria Christian in the regional title game, while Perkins drove in two runs and scored twice. Gilroy was 3-for-4 and got the win on the mound, fanning 14 and allowing five hits in five innings. Breckan Bottenberg also had two hits in a 13-hit attack vs. Peoria Christian.
Perkins, McGinn, Bottenberg and Gilroy had six of seven hits last Thursday in a 6-4 upset win over No. 2 seed North Fulton. Princeville was seeded seventh heading in their sub-sectional grouping.
Gilroy, who had the game-winning RBI on a groundout in the top of the seventh during a four-run frame, allowed six hits and three walks vs. North Fulton in pitching to the win.
Overall, Princeville has improved at the plate. After nine games, the Lady Princes were hitting .217 as a team with 28 runs scored and 70 strikeouts. Since then, they are batting .313 with 60 runs scored and just 28 strikeouts.
"So the strike zone and hitting discipline has really improved," Holt said. "The freshman have gotten a solid month of playing and practice … about the time that was missed with the late start and volleyball season overlap."
Brimfield-Elmwood
BRIMFIELD – Brimfield-Elmwood (14-2) suffered a 5-3 loss at home to Chillicothe IVC last Thursday in a Class 2A regional semifinal.
No. 3 seed B-E started the game well and led 3-2 through five innings behind homeruns from Haley Wallace in the first inning and Kierra Johnson in the fifth.
Kylee Vaughn doubled for the only other hit by a B-E batter off IVC pitcher Katie Petran, who fanned 12 and allowed two walks. Lauren Troxell scored the Lady Indians' other run in the third inning.
But No. 6 seed IVC finished with nine hits and finally took control by scoring once in the sixth inning and twice in the seventh for the win.
Maddie Hessing took the complete-game loss for B-E, fanning eight and allowing four walks and nine hits.
B-E had defeated IVC in its season opener, 12-7. In that game, the Lady Indians rapped out 14 hits and collected four walks vs. Petran.
Farmington
SHERRARD – The Lady Farmers lost at Sherrard, 8-0, last Thursday in a Class 2A regional semifinal.
Alyvia Marcotte had two of three hits for the Lady Farmers and Kyleigh Carpenter had the other.
Sherrard (11-14) scored three in the first, three in the third and one each in the fifth and sixth innings.
Holly Shriber pitched for Farmington and yielded seven hits and two walks. Farmington was also hurt in the field by seven errors.