Farmington girls top Knoxville for sectional title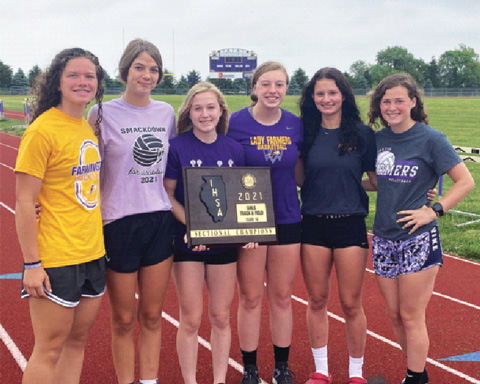 By JEFF LAMPE
For The Weekly Post

FARMINGTON – The bonuses keep coming for the Farmington track team.
One year after not being able to compete due to COVID restrictions, the Lady Farmers not only qualified eight athletes for Thursday's Class 1A state track meet, they also won a surprise sectional title last week at Knoxville.
The Lady Farmers tallied 66 points to top host Knoxville (64 points) and Kewanee Wethersfield and Stark County (62). Princeville was eighth with 38 points.
"I think we were all in shock, because we thought Knoxville was going to win," said junior Miranda Hursey. "So we were really happy about that."
Hursey played a role in Farmington's sectional win, placing first in the pole vault after clearing a personal record she said was 10 feet but that athletic.net has recorded at 9-11.75. Either way, Hursey is the top-seeded local athlete heading to state, ranking 15th.
Hursey also placed second in the 100 in a personal record of 13.15 seconds and is seeded 19th at state.
To speed up the state meet, there will be no preliminaries or semifinals. Field athletes will get four attempts and runners will get one shot in a heat determined by their sectional times.
That's fine with sophomore Anna Webel, who won the discus at sectional with a throw of 100-4.75 and ranks 23rd heading into state.
Webel, who placed fourth at state in discus in 7th and 8th grade, said she was upset with not being able to compete last spring.
"It was a big change from junior high to high school in general, but then when we didn't get track at the end of the year it was very frustrating for me," she said. "I do other sports, but track is my thing."
Webel said she had a "bad sectional" but added, "I think I've got more in me."
Farmington's other top individuals were second-place finishers: senior Deidra Lange in the 100 hurdles (PR of 17.66) and senior Addison Gilstrap, who broke her PR in the discus by 5 feet with a throw of 95-5.25.
Also qualifying for state was Farmington's 4×200, which placed second in 1:54.98 and at sectional consisted of freshman Mariah Hayden, junior Emma Basalay, senior Emma Vallas and freshman Kyleigh Miller.
Lange will fill in for Hayden at state after having also scored for Farmington in three other events at sectional. The future Dubuque University athlete was fourth in the 300 hurdles (53.83), sixth in long jump (14-6.75) and sixth in triple jump with a PR of 30-5.25.
Farmington also got points from its 4×100 relay (fourth in 54.6), 4×400 relay (fifth in 4:37.81) and 4×800 relay (fifth in 12:31.78).
Senior Grace Dearing was the lone Princeville athlete to qualify for state. Dearing won the 100 meters in a personal record of 13.15 seconds and was second in the 200 in 27.28. She just missed advancing in the 400, placing third in 1:03.12.
Dearing is seeded 20th in the 100 and will run in the third heat and ranks 23rd in the 200.
"Grace Dearing was amazing and gutty in her performances at sectionals," Coach Brian Wonders said. "She had a bad start in the 100 meters, being the last one out of the blocks, and was in fourth place at the midway point. But she pulled it off with a photo finish win with the lean at the end. Then entered her in the 400m for the first time all year. She was in the first heat and won her heat by 7 seconds. Finished third overall and just missed qualifying for state. Would have loved to see what she would have done if she was in the second heat and running against the girls that qualified for state. Then she followed that up with qualifying for state in the 200m again."
Other scoring athletes for Princeville at the sectional were Carrie Gill (sixth in 400 in 1:10.25), Kyra Hilsabeck (fourth in 3,200 in 14:15.95), the 4×800 relay of Emma Stutzman, Amber and Ashleigh Brawley and Gill (fourth in 12:23.16), Ashleigh Brawley (fifth in shot put with a throw of 33-0.5), Amber Brawley (fifth in discus, 90-4.25) and Brianna Brodie (sixth in discus, 90-3.75).