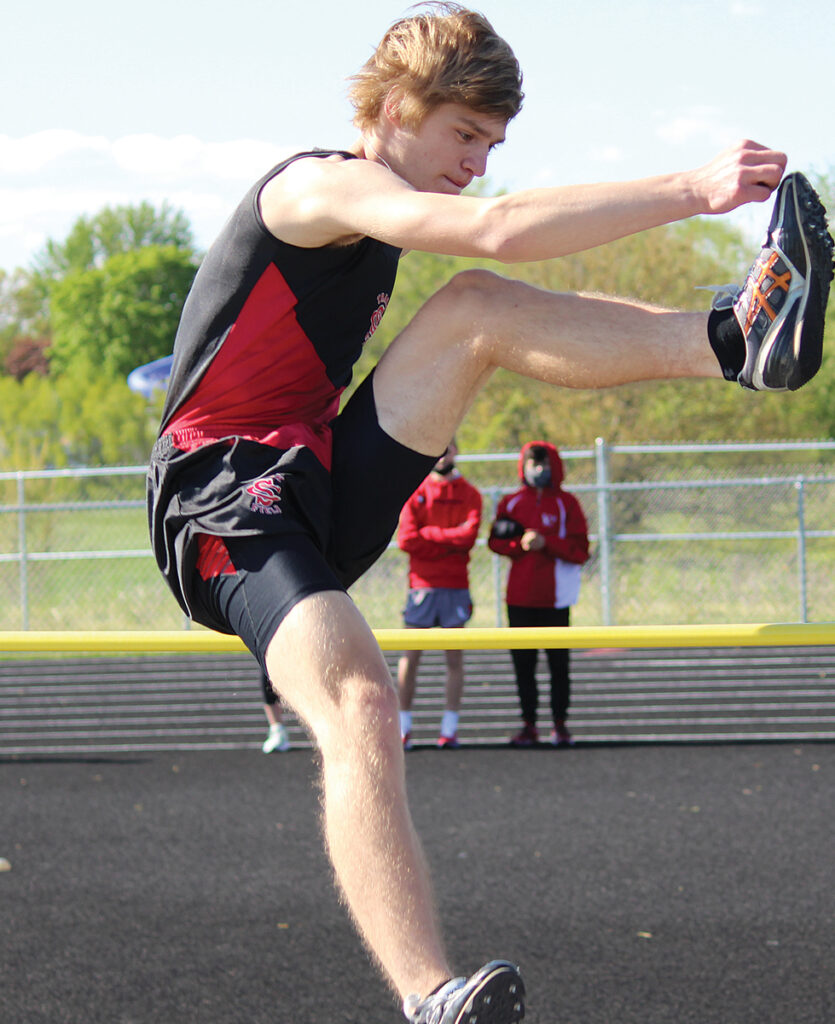 By JEFF LAMPE
and PHIL JOHNSON
For The Prairie News
The Stark County girls track team appears to be peaking in time for next Friday's Class 1A sectional meet at Knoxville.
The Lady Rebels fared well at their last two meets, winning five events in a portion of the Lincoln Trail Conference meet held Tuesday night in Galva and winning the Dale Collis Invitational on May 19, also at Galva.
The Stark County boys team has also fared well, winning three events Tuesday in the LTC meet and placing second on May 19.
SC girls winners at the LTC were: Lindley Johnston in the 200 (27.48 seconds), 400 (1:01.38) and high jump (5 feet, 1.8 inches); and Lena Becker in both hurdles races (100 in 16.39 and 300 in 50.57). Riley Menssen was second in high jump (5-1.8) and Ashley Orrick was fourth in the 1,600 (5:44.63).
For the SC boys, Keagan Newton won the 110 hurdles (18.09) at the LTC and was second in the 300 hurdles (45.51) to teammate Colby Carroll (45.48). The 4×800 relay of Alex Welch, Tanner Price, Tyson Price and Colby Stotler also placed first in 9:16.77 and the 4×400 was second (3:51.56) and is made up of Blake Orwig, Stotler and the Prices.
Due to soggy conditions at Galva on Tuesday, field events were to be finished today during the LTC frosh-soph meet at Mercer County.
Ava Anderson was Galva's top girls finisher at the LTC, placing fourth in the 100 (14.44) and running a leg on the fourth-place 4×100 relay (56.98) that also included Kendall Rogers, Ava Strom and Lexi Stone.
At the Dale Collis meet last week, the SC girls had a strong showing as: Johnston won three events, the 200 (26.77), the 400 (1:03.38) and the high jump (5-4); Becker won both hurdles races (the 100 in 16.79 and the 300 in a personal record 50.16); Emily Norsworthy posted three PRs in winning the long jump (14-6.75), placing second in the 100 (13.48) and third in the 200 (29.27) and Orrick was second in the 800 in a PR of 2:35.90 and third in the 1,600 (5:55.40), one spot ahead of Paige Rewerts in both events.
Meets like that in the latter portion of the season bode well for the upcoming sectional.
"Lindley and Lena both should do really well [at the sectional] and Ashley Orrick thinks she is going to get after it in the mile," Coach Clint Terwilliger said. "Plus, Riley jumped 5-2 in a downpour. So we can definitely compete with the top teams, but I don't know if we'll be able to score enough in the relays to win."
SC boys winners at the Dale Collis were: Newton in both hurdles races (110 in 18.97 and 300 in PR 44.7), the high jump (5-10) and triple jump (43-04) and Blake Orwig in the shot put with a PR of 44-0.75. Carroll was second in the 400 (PR of 53.77) and 110 hurdles (PR of 19.62) and third in the long jump (19-7.75), while the 4×800 relay was second (11:08.83) and Payton Stahl was third in the 800 (2:16.57).
For Galva, Cal Clucas led the boys with a second in the 3,200 (12:09.03) and Jacob Pierce posted PRs in placing third in shot put (37-9.25) and discus (87-6.5). The Galva girls won the 4×200 relay (2:07.95) and took second in the 4×400 (5:30.93).
Stark Co. baseball – Stark County (2-11) lost 14-0 to Annawan-Wethersfield in Lincoln Trail competition on Monday at home. The visitor's pitching was too much for the hosts, allowing just two hits.
A-W pounded out 10 hits, and took advantage of six SCHS free passes.
SC played better Tuesday in a 12-11 loss, but yielded three runs in the bottom of the seventh to lose. The Rebels benefited from 15 walks and saw Daniel Kiser drive in two with a double and Ryan Hillan and Daniel Burke score three times apiece.
SC hosted Mercer County last Friday in an LTC doubleheader, falling 11-2 in the opener and 12-3 in the second game.
Mercer jumped on SC with five in the top of the first in game one. Five errors by the home team dented the cause. In four innings of pitching, Kiser gave up just two earned runs.
In the second game, five Stark errors were a problem. Tim Giesenhagen pitched to a partial line of eight hits yielded, three earned runs, three strikeouts and two walks.
RBIs came off of the bats of Jacob Best, Matthew Shipp and Charlie Holstrom (one each). Hillan rapped a double.
Galva baseball – Galva (0-5) came up short at home to ROWVA-Williamsfield 8-2 last Thursday.
Six R-W pitchers held the Wildcats to four hits. Jaxson Meier clubbed a triple, while Cal Clucas hit a double. Kaiden Wood had an RBI single.
Tyler Piester, Tanner Lane, Braxton Rylander and Clucas pitched for GHS, totaling seven strikeouts and yielding just seven hits, but seven walks by the quartet of pitchers proved to be too much.
Stark Co. softball – The Lady Rebels had won three straight prior to losses Monday (15-0) and Tuesday (9-4) to Wethersfield-Annawan. Prior to that, Stark County (4-9) had swept a pair from Newman Central Catholic on Saturday, 14-1 and 2-1, and on May 21 topped Mercer County, 5-1.
Olivia Orwig had two hits, including a double, and drove in two runs in the win over Mercer County. Kelsey Berchtold pitched to the win, allowing just six hits.
Berchtold was even better last Saturday, allowing three hits and no walks and fanning four in a 2-1 win over Newman Central Catholic. She also had two hits and SC made the most of four errors by their foes and an RBI from Karsyn Rewerts.
The SC bats got hot in the second game last Saturday, with Orwig (3-for-4, 3 RBI), Lauren West (2-for-3, 4 RBI) and Hayley Gillam (3-for-4) leading a 10-hit, 9-walk attack. Shannon Peterson got the pitching win.